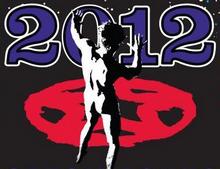 2012 was yet another tremendous year for Rush. For this last Updates and other random Rush stuff post of 2012 I thought I'd take a look back on 2012 and highlight all the major Rush events that took place. We'll then look ahead to next year which also promises to be another great year for the band. 2012 unfortunately began with a tragedy for the Rush family when longtime friend and official photographer Andrew MacNaughtan passed away from a heart attack at age 47 back on January 25th. Neil Peart penned this touching tribute to Andrew over at NeilPeart.net shortly after his death. Another tragedy befell the Rush family later in the year when Shane Danniels - son of Rush manager Ray Danniels - was diagnosed with a brain tumor and passed away on November 1st. Other than these tragic events, the Rush news in 2012 was all good and dominated by the band's Clockwork Angels album and tour. There were also 2 big Rush Days to celebrate over the past year due to it being the 2112 pre-centennial; February 1st (2/1/12) and the big annual International Rush Day celebration last Friday on December 21st (12/21/12 or 21/12/12). And I should also mention that Neil Peart turned the big Six-Oh back on September 12th.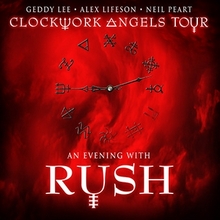 As I'd mentioned above, Rush's Clockwork Angels album and tour dominated the Rush news in 2012. The Headlong Flight single was released back in April followed closely by the Clockwork Angels tour announcement and the Clockwork Angels album itself being released in early June, along with a flurry of band interviews on TV, in print and on radio. The album ended up debuting at #2 on the Billboard album charts - which tied the band's best ever debut chart position - and it remained on the charts for 20 weeks. In June Alex Lifeson surprised us by revealing in a Billboard interview that the band would be taking an 8-piece string section on the road with them for the Clockwork Angels tour. Rush gave us another Clockwork Angels surprise when they announced that Neil Peart would partner with his friend and sci-fi author Kevin J. Anderson to release a novelization of the Clockwork Angels album. The novel was officially released towards the end of August just prior to the Clockwork Angels tour which kicked off in Manchester, NH on September 7th. The tour then dominated the Rush news cycle for most of the Fall until it closed out on December 2nd in Houston. In early October Rush fans received a pleasant surprise when the band was announced as a nominee for induction into the Rock and Roll Hall of Fame. Then the real surprise came in December just a few weeks ago when Rush was announced as one of the six inductees selected for the Rock Hall class of 2013. To cap things off, the band released a 2112 Deluxe Edition just last week which featured the classic album remastered in 5.1 along with a 2112 comic book by Tom Hodges. Also of note was the band's filming of their shows in Phoenix and Dallas for a live DVD to be released next year.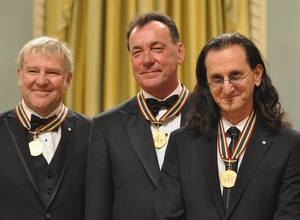 As is typically the case, Rush received a number of awards and accolades over the past year. The band received the Revolver Golden Gods Lifetime Achievement Award on April 12th and Neil Peart appeared at the ceremony to accept the award. A much bigger honor was presented to the band a few weeks later in early May when Rush received the Governor General's Performing Arts Award for Lifetime Artistic Achievement during a ceremony at Rideau Hall in Ottawa. The band's Clockwork Angels album would later receive the Album of the Year award at the 1st annual Prog magazine Progressive Music Awards which took place in September. The album also received that same honor at the 2012 Classic Rock Awards in November, along with the band being awarded Band of the Year. Rush was then inducted into the Guitar Center's RockWalk on November 20th.


Rush and Rush music was heavily featured on some major TV shows this past year. The final episode of the heavy metal documentary show Metal Evolution aired back in January and focused on the Progressive Metal genre of heavy metal. It heavily featured Rush, including interview segments with all 3 members along with former producer Terry Brown. American Idol contestant David Weed attempted to sing Rush's Tom Sawyer back in February. There were more Rush references on FX's Archer back in March including this one and another on the Season 3 finale. William Shatner hosted the JUNO Awards this past year and opened the ceremony with a spoken-word performance medley of Canadian rock classics including Rush's Tom Sawyer. Later in the year Volkswagen premiered a new commercial for the 2012 Passat which featured a man stopped at a traffic light in a Passat rocking out to Rush's Fly By Night. There was also a great Christmas-themed Rush reference on The Colbert Report in late November, and a 2112 reference on Fox's American Dad in early December.

Other than the recording of the Clockwork Angels album and subsequent tour, the band kept busy with various side projects. Geddy Lee tested his acting chops back in February when he made a small cameo appearance in the CBC's film adaptation of author Stephen Leacock's Sunshine Sketches of a Little Town. Alex Lifeson contributed some guitar tracks to Canadian singer-songwriter Jason Plumb for his solo project Jason Plumb and The Willing which released back in March. Neil Peart hit the studio with Vertical Horizon earlier this year to play drums on a couple of tracks for their next album, and he participated as a panelist in a roundtable discussion for the LA Music Academy's 3rd Drummer Reality Camp that took place on June 29th. Neil also kept busy with his regular news updates at NeilPeart.net along with launching an official Neil Peart Twitter feed.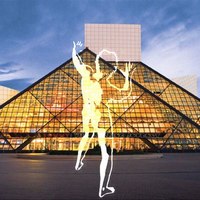 As for 2013 there's a lot to look forward to including the continuation of the Clockwork Angels tour, a live DVD and the band's induction into the Rock and Roll Hall of Fame on April 18th. So what do you think is the biggest Rush event of the past year? Take the poll and let us know.
Since the year 2012 is coming to a close, there have been a flurry of end-of-year best of lists released over the last week. Grantland's Steven Hyden put Rush's Clockwork Angels album at #7 on his list of favorite albums of 2012 along with throwing Wish Them Well at #7 on his list of favorite songs. Annie Zaleski of the Las Vegas Weekly placed the album at #4 on her list of the best albums of 2012, and Joe Hadsall of the Joplin Globe declared it his favorite album of the year. The Montreal Gazette's Jordan Zivitz put the album at #2 on his list saying the following:
Closing in on their fifth decade, the hall-of-fame trio headed back to the future while recalling their unparalleled journey. A richly detailed concept album that ranks among their most essential work.
The album also made the Willamette Week Newspaper Best of 2012 list (thanks briebeaz), was #3 on Classic Rock Revisited's list (thanks Scott G), and made the BW&BK Brave Picks list for 2012 coming in at #10. Rush's September 11th show in Pittsburgh made Scott Tady's list of the Best Shows of 2012 coming in at #2. Their November 28th show in Dallas made #7 on the Dallas Morning News list of the best shows of 2012. And the band's Boston show made WZLX's list of The Top 5 Boston Concerts of 2012. Dream Theater keyboardist Jordan Rudess picked the album's first single Headlong Flight as his favorite song of 2012 (thanks Phil Simon).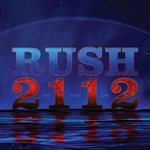 The 5.1 Surround Sound Deluxe Edition version of 2112 released last week and is now available as a CD plus Audio DVD Deluxe Edition, a CD plus Audio Blu-ray Deluxe Edition and a CD plus Audio Blu-ray Super Deluxe Edition. The re-release of the album has propelled it back into the Billboard 200 where it currently sits at #138 (thanks John at Cygnus-X1.net). All 3 versions of the Deluxe Edition contain a digitally remastered CD with 3 unreleased live tracks along with a DVD or Blu-ray 5.1 Surround Sound mix of the album. Also included in each version is expanded artwork, liner notes, lyrics, unreleased photos and brand new liner notes by David Fricke. The Super Deluxe version is housed in a hardbound book with a 40 page comic book by story artist Tom Hodges. The DVD/Blu-ray contains a digital version of this comic book, and an iBook version which also includes the lyrics, liner notes and photos is also available for sale separately. John at Cygnus-X1.net has transcribed/scanned the comic book, album artwork, and liner notes. For all the details and technical specs, check out the Rush.com press release. There's also this short, 20-second preview video that shows a few images from the included 2112 comic book with 2112: Temples of Syrinx playing in the background.
The Houston Press featured an article earlier this week titled 5 Guitarists Who Got Started on Christmas Presents, one of whom was Rush's Alex Lifeson:
On the Rolling Stone list of 100 greatest guitarists, Rush's Alex Lifeson comes in at No. 98. He is a founding member of the group and currently uses custom-made Les Pauls, but back in the day as a kid, he was actually a violist. He abandoned the instrument when his father gave him a six-string Kent classical guitar for Christmas.
In celebration of the big Rush Day holiday last Friday Geddy Lee was a guest of Darren Redick of UK digital radio station Planet Rock for a short, 8-minute interview. They chatted about the Rock Hall induction announcement, the 2112 Deluxe Edition, the upcoming UK leg of the Clockwork Angels tour and more. He mentioned that the UK setlist will be essentially the same as on the North American leg with possibly 1 or 2 tweaks, and it sounds like they'll stick to alternating between their A and B setlists. You can listen to the entire interview on the Planet Rock website at this location.
Alex Lifeson also got in on the Rush Day celebration. Friday Night Rocks on Q104.3 in New York City aired its first ever The Holiday Rush radio special with Eddie Trunk and co-host Mike Portnoy live last Friday night from 11PM-2AM. They dedicated the entire 3-hour show to Rush, including an all new interview with Alex Lifeson. Eddie and Mike geek out about all things Rush, play a bunch of Rush tracks including some rare bootlegs, and Eddie airs a new pre-recorded interview with Alex Lifeson. Alex talks for 35 minutes about a number of subjects including the Clockwork Angels album and tour, the 2112 Deluxe Edition, the band's future, Rush's 40th anniversary plans, the band's Rock Hall induction and more. He mentions the extension of the Clockwork Angels tour into 2013, and it sounds like the band has already made plans well into 2014 although Alex didn't reveal any details. So it sounds like the chances of some sort of retrospective 40th anniversary tour are looking pretty good. Reader devoidzer0 recorded the show and posted portions of it to YouTube including the interview, commentary and bootleg tracks. You can listen to it below or at this location.
That's all for 2012! I hope everyone has a very happy and safe New Year celebration.