UPDATE - 3/19@3:34PM: Here's a video news story covering Andrew's Grace: Africa in Photographs project (thanks Lex Rushon). It includes interview segments with Andrew along with Geddy and Alex from the art exhibit's opening gala.
UPDATE - 1/30@10:16AM: Here's Andrew's obituary in the Toronto Globe and Mail (thanks RushFanForever). And Neil Peart wrote a tribute to Andrew that he posted over at NeilPeart.net.
UPDATE - 1/28@10:42AM: Here's a CBC video news story on Andrew MacNaughtan's death (thanks RushFanForever). And photographer John Vinson sent me a couple of photographs he took of Andrew at work at the Red Rocks show in 2010 which you can check out by clicking on the thumbnails.
UPDATE - 1/27@9:27AM: Here's a CBC report on Andrew's passing that mentions his age as 47. And here's a great 1991 interview with Andrew where he talks at length about how he first got involved with Rush. 47 is way too young to die...
UPDATE - 1/26@7:40PM: Here's a report on MacNaughtan's death from the Toronto Star (thanks RushFanForever):
Toronto photographer Andrew MacNaughtan, longtime documenter of Rush's exploits and the man behind dozens of iconic portraits of Canadian celebrities, passed away suddenly in Los Angeles on Wednesday.

MacNaughtan, in his mid-40s, reportedly suffered a heart attack while in California shooting his old friends, Rush.

A member of the band's local management staff told the Star the office was "heartbroken over here," ...
----- snip -----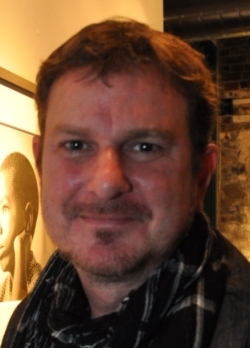 I'm very sad to report that Rush's longtime friend and photographer Andrew MacNaughtan has passed away. From the Rush Facebook page:
We're deeply shocked and heartbroken to learn of the sudden passing of our close friend and long-time photographer, Andrew MacNaughtan. He was a sweet person and a very talented artist. Words cannot describe how much he will be missed. - Geddy, Alex & Neil
Apparently Andrew died of a heart attack while on assignment with the band in Los Angeles. Andrew had worked with Rush as a photographer and videographer for many of the band's projects since back in the '80s. His latest project was a unique art book showcasing the beauty of Africa through a series of stunning black and white photographs called GRACE: Africa in Photographs. Proceeds from sales of the book and prints of the photographs go to support Andrew's charity ArtGivesHope. Andrew spoke about the project in this November interview with Global News which you can view below or at this link (thanks RushFanForever). Thanks to Paul Beaulieu for the great photo of Andrew. Andrew was an integral part of the Rush family and will be sorely missed. Our heartfelt condolences go out to all of Andrew's friends and family.