UPDATE - 4/21@5:08PM: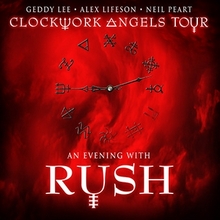 The Rush Music Today site now lists all 10 of the dates that are going on sale this week; Manchester, Chicago, Detroit, Philadelphia, Newark, Brooklyn, Boston, Buffalo, Anaheim and LA. Although the link is currently hidden, to sign up for (or login with your account from previous tours) the Music Today Rush Fan Community just go to this link. I now have all 33 of the shows loaded into the RIAB tour page, and will be continually updating the listings with pre-sale/on-sale information as it comes in - so check back regularly. I also have the interactive tour map up and running again on the tour page.
UPDATE - 4/20@12:05PM: Pre-sales for several of the shows will begin this coming Monday and Tuesday with regular on-sales kicking off next Friday, April 27th and Saturday, April 28th. There will be a fan pre-sale that should be officially announced via the Rush.com newsletter within the next few days, along with Citi Card pre-sales and VIP packages (package details here). So if you haven't signed up for the newsletter yet, you can do so at Rush.com. Currently no information regarding the timing of the VIP pre-sales is given on the Ticketmaster or Live Nation websites, but judging by past experience, these will kick-off on Monday or Tuesday morning; I'll be going with that assumption until we learn otherwise. The fan pre-sale will once again be handled by Music Today, who just updated their website this morning with some Clockwork Angels tour branding and the first batch of pre-sales. So far they have the pre-sales for Manchester, Chicago, Philadelphia, Newark, Boston, Buffalo and Anaheim listed, all of which will kick-off beginning Monday at 12PM (local venue time). For a guide to all the different pre-sales, check out my pre-sales guide. The information contained in the guide pertains to the 2011 tour, but it should also be applicable to the 2012 tour for the most part. I'll be updating the guide as we get more updated information. I've also begun loading all of the dates along with all the pre-sale/on-sale information into the tour section. They should all be in there by the end of the weekend.
UPDATE - 4/19@12:38PM: Here's the official press release. It contains these comments from Neil Peart regarding Headlong Flight:
... "In late 2011, my drum teacher Freddie Gruber, towards the end of his long and adventurous 84 years, was reminiscing among friends and former students. Often he would shake his head and say, 'I had quite a ride. I wish I could do it all again.' That is not a feeling I have ever shared about the past -- I remain glad that I don't have to do it all again. While working on the lyrics for 'Headlong Flight,' the last song written for Clockwork Angels, I tried to summarize my character's life and adventures. My own ambivalence colored the verses, while Freddie's words inspired the chorus 'I wish that I could live it all again.'" ...
----- snip -----
UPDATE - 4/19@10:04AM: The dates (most of them at least) are now listed at LiveNation and Ticketmaster. Pre-sales will begin next Tuesday, April 24th. I'll have more information on pre-sales in the upcoming days, and I'll also be loading everything onto my tour page.
UPDATE - 4/19@8:10AM: Here are the Rush VIP ticket package details:
CLOCKWORK ANGELS TOUR PACKAGE
* One reserved ticket located within the first 15 rows of the stage
* Exclusive Rush tour shirt
* Collectible tour poster (numbered, limited)
* Official tour program
* Specially designed tote bag
* Set of official guitar picks
* Commemoritive concert ticket
* Commemorative tour laminate
----- snip -----
UPDATE - 4/19@6:35AM: In celebration of the tour announcement, the Rush Backstage Club is now selling an official Clockwork Angels t-shirt. They also have a vinyl version of the album available for pre-order (also on Amazon.com).
As expected, sometime last night Rush.com posted the official Clockwork Angels tour dates. What was unexpected was that they also included an official video for Headlong Flight which you can check out at the bottom of this post or on YouTube! It turns out the original 33 dates that were leaked 2 days ago were spot-on except for the fact that the Indianapolis show will indeed take place indoors at the Bankers Life Fieldhouse rather than the Klipsch Center as reported last week. So the 2012 Clockwork Angels tour will consist of 3 legs of 12, 12 and 9 respectively, making a total of 33 dates. Some of the dates will be going on sale as soon as next Friday! Here's the tour itinerary from Rush.com:
Sept 7: Manchester, NH - Verizon Wireless Arena (on sale Fri. April 27th)
Sept 9: Washington, DC - Jiffy Lube Live
Sept 11: Pittsburgh, PA - CONSOL Energy Center
Sept 13: Indianapolis, IN - Bankers Life Fieldhouse
Sept 15: Chicago, IL - United Center (on sale Sat. April 28th)
Sept 18: Detroit, MI - Palace of Auburn Hills (on sale Sat. April 28th)
Sept 20: Columbus, OH - Nationwide Arena
Sept 22: St. Louis, MO - Scottrade Center
Sept 24: Minneapolis, MN - Target Center
Sept 26: Winnipeg, MB - MTS Center
Sept 28: Saskatoon, SK - Credit Union Center
Sept 30: Edmonton, AB - Rexall Place
Oct 10: Bridgeport, CT - Webster Bank Arena
Oct 12: Philadelphia, PA - Wells Fargo Center (on sale Fri. April 27th)
Oct 14: Toronto, ON - Air Canada Center
Oct 18: Montreal, QC - Bell Centre
Oct 20: Newark, NJ - Prudential Center (on sale Fri. April 27th)
Oct 22: Brooklyn, NY - Barclays Center (on sale Fri. April 27th)
Oct 24: Boston, MA - TD Garden (on sale Fri. April 27th)
Oct 26: Buffalo, NY - First Niagra Center (on sale Sat. April 28th)
Oct 28: Cleveland, OH - Quicken Loans Arena
Oct 30: Charlotte, NC - Time Warner Cable Arena
Nov 1: Atlanta, GA - Verizon Wireless Ampitheater
Nov 3: Tampa, FL - 1-800-ASK-GARY Ampitheater
Nov 13: Seattle, WA - Key Arena
Nov 15: San Jose, CA - HP Pavillion
Nov 17: Anaheim, CA - Honda Center (on sale Fri. April 27th)
Nov 19: Los Angeles, CA - Gibson Ampitheater (on sale Fri. April 27th)
Nov 23: Las Vegas, NV - MGM Grand
Nov 25: Phoeniz, AZ - US Airways Center
Nov 28: Dallas, TX - American Airlines Center
Nov 30: San Antonio, TX - AT&T Center
Dec 2: Houston, TX - Toyota Center
Not much other information regarding the tour was given at this time but they promised more details would be coming. They also announced that there would be a fan pre-sale that would be announced via the Rush newsletter, along with Citi Card pre-sales and VIP packages. So if you haven't signed up for the newsletter yet, you can do so at Rush.com. I'll also be posting all the pertinent information as I learn it. The video for Headlong Flight that they posted is titled as the Official Lyric Video. It has a number of visuals that display the lyrics to the song interspersed with old performance video of Rush and some other steampunk visuals. Here it is:
Related Posts:
[Rush 2012 Clockwork Angels tour dates leaked]
[Rush 2012 Clockwork Angels tour rumor update]
[Rush 2012 Clockwork Angels tour update: official announcement coming April 19th?]
[Possible cover artwork for Rush's Clockwork Angels album, tourbook revealed]
[Rush 2012 tour update: Neil Peart confirms Fall tour]
[Rush Clockwork Angels, 2012 tour rumor update]
[Rush's Clockwork Angels album/tour most-anticipated of 2012]