UPDATE - 8/2@1:10PM: The Twitter page has been officially announced over at NeilPeart.net.

UPDATE - 7/28@9:54AM: Wait! Now the page is called WestSideBeemerBoys and has a nice cool logo to match. :)
UPDATE - 7/27@8:02AM: Michael has updated the title of the feed to Clockwork Motorrad and also updated the feed's description:
Neil Peart Official - Join Neil and tour security Michael as they ride the Clockwork Angels Tour 2012-13 from a two-wheel moto-tour perspective!
There have already been a bunch of great tweets made since yesterday including this photo of Neil all dressed up with his bike.
----- snip -----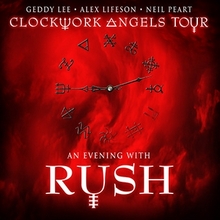 A new Twitter page has been set up by Neil Peart's friend/riding partner and member of the Rush tour security team - Michael Mosbach - where he and Neil will be tweeting updates from the road on Rush's upcoming Clockwork Angels tour. Here's the introductory tweet from earlier this morning:
Welcome one welcome all! This misfit band of a twitter page will be up to speed oddities of words and photos! Of the 2012 CA tour...
You can follow them on Twitter at @praetorianx1. The band headed into full rehearsals earlier this week in preparation for the tour kickoff in Manchester 6 weeks from tomorrow. Geddy recently had this to say regarding the tour in an interview with Music & Musicians magazine:
We're going to be rehearsing for at least seven or eight weeks this summer to make sure that we can play these songs. Putting the tour together is a big job, and obviously we want our fans to love what we're putting together. ...
Related Posts:
[Rush Clockwork Angels tour Amsterdam pre-sale]
[Rush's Clockwork Angels tour to include a string section]
[New Alex Lifeson interview at RollingStone.com; talks Clockwork Angels, tour setlist and more]
[Rush 2012/2013 Clockwork Angels tour updates; Helsinki pre-sales, Toronto on-sale, band interviews]
[Rush Clockwork Angels tour: 3 new European dates added]
[Rush 2012/2013 Clockwork Angels tour updates]
[Rush Clockwork Angels tour UK/Europe pre-sale info; 2nd Toronto show added]
[Rush Clockwork Angels tour official UK/Europe dates announced]
[Rush 2012 Clockwork Angels tour updates: pre-sale update, UK/European tour, DVD/BD news]
[Rush 2012 Clockwork Angels tour: third round of pre-sales begins today at 12PM]
[Rush 2012 Clockwork Angels tour updates]
[Rush 2012 Clockwork Angels tour: second round of pre-sales begins tomorrow at 12PM]
[Rush 2012 Clockwork Angels tour updates]
[Rush 2012 Clockwork Angels tour official pre-sale details]
[Official Rush 2012 Clockwork Angels tour announcement and dates!]