UPDATE - 11/28@4:50PM:



As mentioned below, James Dean Bradfield of the Manic Street Preachers accepted Rush's awards on their behalf. Bradfield was interviewed for a special iPad edition of Classic Rock Magazine covering the 2012 Awards. Reader Boolee sent along some scans of the interview which you can check out by clicking on the thumbnails.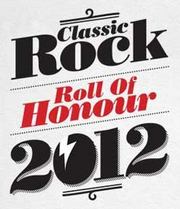 Classic Rock Magazine's 2012 Classic Rock Awards took place this evening at the Roundhouse in London. Rush was nominated in both the Band of the Year and Album of the Year (for Clockwork Angels) categories and won them both. Most of the awards including the 2 that Rush won were voted on by fans in an online poll that launched back in August. Rush obviously could not be there to accept their awards since they are playing the KeyArena in Seattle tonight, but acknowledged the honor via this Twitter post:
Sorry we couldn't be there, playing in Seattle but thanks to @ClassicRockMag readers for the Album of the Year and Band of the Year awards!
Accepting the awards on behalf of the band was James Dean Bradfield of the Manic Street Preachers. For a complete rundown of the evening's events and a list of the winners, go here.