UPDATE - 12/22@11:48AM: John at Cygnus-X1.net has transcribed/scanned the comic book, album artwork, and liner notes.
UPDATE - 12/18@4:24PM: The iBook version of the 2112 comic book can be purchased on iTunes. Here's more on the iBook from Rolling Stone:
... the iBook includes previously unpublished photos not available in the physical version. The iBook does not include the album, though it does come with samples of the six original songs and three bonus tracks. ...
----- snip -----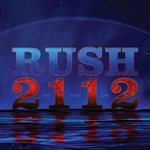 The 5.1 Surround Sound Deluxe Edition version of 2112 releases tomorrow in North America and will be available as a CD plus Audio DVD Deluxe Edition, a CD plus Audio Blu-ray Deluxe Edition and a CD plus Audio Blu-ray Super Deluxe Edition. All 3 versions will contain a digitally remastered CD with 3 unreleased live tracks along with a DVD or Blu-ray 5.1 Surround Sound mix of the album. Also included in each version will be expanded artwork, liner notes, lyrics, unreleased photos and brand new liner notes by David Fricke. The Super Deluxe version will be housed in a hardbound book with a 40 page comic book by story artist Tom Hodges. The DVD/Blu-ray will contain a digital version of this comic book, and an iBook version which also includes the lyrics, liner notes and photos will is available for sale separately. For all the details and technical specs, check out the Rush.com press release. There's also this short, 20-second preview video that shows a few images from the included 2112 comic book with 2112: Temples of Syrinx playing in the background which you can check out online at this location. To celebrate the release, several radio stations across Canada are airing a Rush 2112 radio special this week hosted by Alan Cross where they take a retrospective look at the album (thanks bucklemyshoe). Some stations that are airing the show include 94.9 The Rock, C103 and K-Rock 105.7. Check your local Canadian rock station for air times.
The 2112 Deluxe Edition was released on Friday in some parts of Europe and reader rushfanben received his copy of the standard Deluxe Edition and sent along some scans of the liner notes.


When you play the DVD/Blu-ray, a picture (also drawn by comic book artist Tom Hodges) is displayed depicting the song, as shown in this image for Something for Nothing. The comic book faithfully depicts the story of 2112 as described in Neil Peart's lyrics - with each section of the song broken out in a chapter of its own. I've attached a screenshot of a scene from Discovery.
You can order your copy today at Amazon:
[CD+DVD Deluxe Edition]
[CD+BD Deluxe Edition]
[CD+BD Super Deluxe Edition]
[2112 iBook]
Related Posts:
[Rush 2112 Deluxe Edition back cover art originals up for auction]
[Rush to release an iBook companion to 2112 Deluxe Edition]
[Rush 2112 Deluxe Edition comic book preview video]
[Rush 2112 Deluxe Edition 5.1 reissue cover art revealed]
[Rush releases details regarding the Super Deluxe reissue of 2112]
[Super Deluxe CD/BD reissue of 2112 coming December 18th]