UPDATE - 1/20@6:34PM: Some more coverage from UCR.
UPDATE - 1/20@10:03AM: Here's some coverage of the event from Ultimate Classic Rock, focusing on Alex Lifeson's comments on up-and-coming rockers Greta Van Fleet:
... "At first, I thought-obviously, the influence of Led Zeppelin," he said. "But it's a new time for them, so many decades later, so they're developing their own audience." In fact, Lifeson drew on his own experiences with Rush to explain what he sees in the surging young band. "What really struck me about [Greta Van Fleet] is their musicianship, their desire to become better players, their arrangements," he said. "All of those things. As young players - I think they're all in their early 20s-there's a real great future for them as they develop their own style. "Much like we did," Lifeson continued. "We were a bar band, really. We had our influences. Certainly Zeppelin was a big influence for us. But once we got out and we got a chance to play and develop our own stuff and start writing our own material...well, you know, that's history. And I see that with them too. They're young enough that they can carry that banner for a rock band into the future." ...
----- snip -----
UPDATE - 1/19@7:41PM: Photo of the day award goes too ...
This way to @rockhall #rushfanday #BBBoB pic.twitter.com/1hPJKP5uKF

- Rush (@rushtheband) January 19, 2019
----- snip -----
UPDATE - 1/19@5:37PM: The entire interview and Q&A is available on the Rock Hall Facebook page - it kicks in around the 16-minute mark (thanks Will C):
----- snip -----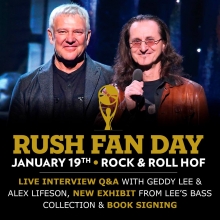 It's Rush Fan Day at the Rock and Roll Hall of Fame in Cleveland! Today's festivities will include a new exhibit of Geddy Lee's basses, a Hall of Fame Series interview with Lee hosted by bandmate Alex Lifeson, a book signing with Lee where he'll sign copies of his Big Beautiful Book of Bass, and a rebroadcast of Rush's 2013 Hall of Fame Induction. For those who weren't able to get a ticket, the Rock Hall will be live-streaming the event via their Facebook page. The event will kick off at 12PM with an interview of Geddy hosted by bandmate Alex Lifeson on the Klipsch Audio main stage, followed by a Q&A session (fans not in attendance can submit questions directly during the Q&A via the Facebook live-stream). After the interview, ticket holders will have the opportunity to get their book (included with ticket price) signed by Geddy Lee himself. Part of Geddy's bass collection will also be on display in the Rock Hall's Shine a Light exhibit, and footage from Rush's 2013 induction will be shown throughout the day in the Museum's Forest City Theater. I'll be on hand with live updates throughout the day via Twitter (tweets embedded below), so tune in to this post or follow @rushisaband on Twitter.