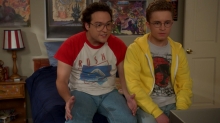 Actor Sean Marquette portrays the recurring character Johnny Atkins on the ABC '80s throwback comedy series The Goldbergs. The character was first introduced early in Season 3 of the show and is known for being a huge Rush fan and always wearing a Rush concert t-shirt in every episode he appears in. The show even aired an entire episode centered around Rush and featuring Marquette's character back in Season 3 (Season 3, Episode 21 - Rush) as described in this post. According to the show's publicist (Ike Richman Communications), Atkins will be wearing ELEVEN different Rush t-shirts throughout the show's next episode (Season 6, Episode 16 - There Can Be Only One Highlander Club), which will pay tribute to the Highlander movies and tv show, and guest star Clancy Brown. The episode will air on ABC this coming Wednesday, February 20 at 8PM and you can see a screengrab featuring Johnny in one of his t-shirts here (a GUP t-shirt). From the publicist:
ACTOR SEAN MARQUETTE WEARS 11 RUSH CONCERT T-SHIRTS IN SAME EPISODE OF THE GOLDBERGS ON ABC-TV ON FEBRUARY 20

Actor Sean Marquette, who portrays Johnny Atkins, on the ABC-TV hit comedy The Goldbergs, steps into the Limelight in an upcoming episode of The Goldbergs, and will wear 11 different Rush concert T-shirts throughout the episode which airs on ABC-TV on Wednesday, February 20 at 8 p.m.

The Goldbergs' executive producer Adam F. Goldberg often creates "totally surreal" moments in his show featuring life-long friends, heroes, idols, and other well-known celebrities from his personal life of growing up in a suburban Philadelphia neighborhood in the 1980s into his show.

"Johnny Atkins is this sort of modern-day warrior with that mean, mean stride," said Goldberg. "His character is designed to be this rebel and a runner, a restless young romantic. He is based on a friend of mine from high school that was always wearing concert T-shirts whether it was in the high school halls or the shopping malls."

"I'm a huge Rush fan, and this is my way of always paying tribute to one of my favorite bands by having Johnny wear a Rush T-shirt in every episode," said Goldberg.

Marquette's character wears a Rush T-shirt in every episode he appears. He will also make a cameo appearance immediately following The Goldbergs episode on February 20 on the show's successful spinoff, Schooled, airing at 8:30 p.m. on ABC-TV, in a Rush T-shirt, of course.
You can watch The Goldbergs on ABC or online at the ABC website here (or on Hulu).