UPDATE - 12/5@7:25AM: Official photos from the show have been posted at RushShowPhotos.com.
UPDATE - 12/3@4:34PM: Here's a great Flickr photo gallery of last night's show from reader mstmompj.
UPDATE - 12/3@3:29PM: Here's a review from the Houston Press.
UPDATE - 12/3@9:48AM: Here's a gallery of photos that was posted over at Cygnus-X1.net.
UPDATE - 12/3@7:23AM: Rush played version of the Night A setlist that was similar to the one they played in Buffalo with one exception in the 2nd set; complete setlist here.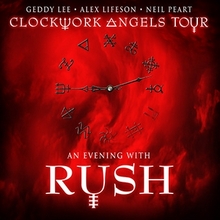 This is it. Rush will close out the 2012 Clockwork Angels tour tonight at the Toyota Center in Houston. Not to worry though - assuming the rumors are true, they should be back again next year for another run of North American dates. Hopefully we'll get some official word on that front soon. For this last stop on the tour the band is due to play some version of their Night A setlist, but certainly may change things up a little. As soon as I find out what version of the set was played along with any changes, I'll be sure to post it here. For everybody going to the show tonight, have fun, stay safe, and be sure to share your reports, reviews, and photos with us. Ruussshhhh!!
Date/Time: Sunday, December 2nd @ 7:30PM
Show Number: 35
Venue: Toyota Center
Place: Houston, TX
gallery: [view] [upload] [YouTube videos]
reviews: [reviews] [setlist]