UPDATE - 12/19@11:11AM: Public Enemy's Chuck D was recently interviewed by Rolling Stone regarding the induction and said the following (thanks Ian H):
... "We guarantee we're going to tear that damn place down," says Chuck D. "I might tell DJ Lord to rock the beginning of 'Tom Sawyer.' Then people will be shaking their heads like, 'What the f**k is going on?'" ...
----- snip -----
UPDATE - 12/14@9:33AM: VH1 Classic has declared today as Rush Day in celebration of the band's Rock Hall induction. From the VH1 Classic Facebook page:
We're celebrating RUSH's induction into the Rock and Roll Hall of Fame by play Rush ALL DAY long on VH1 Classic!! Tune in + rock out starting RIGHT NOW!
----- snip -----
UPDATE - 12/13@9:53AM: Back in 1998 Rush fan Suzanne Krause started the Rush Hall of Fame Campaign petition and over the last 14 years it has gathered over 40,000 signatures. Suzanne was a guest on Global's The Morning Show yesterday where she discussed the petition and Rush's induction. You can view it online at this location.
UPDATE - 12/13@9:36AM: Here's a funny editorial cartoon in the Toronto Globe and Mail on Rush's induction. It shows the Grinch with the caption, Begrudgingly, Even the Grinch celebrates the induction of Rush into the Rock and Roll Hall of Fame (thanks Paul D).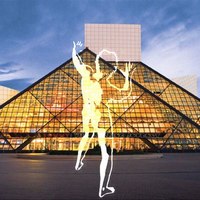 UPDATE - 12/12@4:41PM: Note that the induction ceremony will occur on Thursday, April 18th, 2013 and Rush will be there. Here are details from the Rock Hall website regarding tickets - which will go on sale January 25th:
Tickets to the 2013 Rock and Roll Hall of Fame Induction Ceremony go on sale to the public on Friday, January 25th. Rock and Roll Hall of Fame and Museum Members will have the opportunity to purchase advance sale tickets to the Rock and Roll Hall of Fame 2013 Inductions. Memberships must be active as of January 1st, 2013. Some restrictions apply. Stay tuned for more details! Not a member? Click here to become one!

Scheduled for Thursday, April 18, 2013, the 28th Annual Rock and Roll Hall of Fame Induction Ceremony will be held at the Nokia Theatre L.A. LIVE in Los Angeles. This marks the first time since 1993 that the Rock and Roll Hall of Fame Induction Ceremony will be held on the West Coast. The ceremony will again be open to the public, as it was in 2009 and 2012 in Cleveland.
It will not be broadcast live but will be broadcast on HBO on Saturday, May 18th at 9PM EST.
----- snip -----
UPDATE - 12/12@2:08PM: Alex Lifeson appeared on the Humble and Fred podcast today to discuss the band's induction. You can listen to Alex's comments in this podcast at about the 18-minute mark.
UPDATE - 12/12@1:41PM: Here's some video of Billy Corgan commenting on Rush's induction from Fuse TV (thanks simont2112).
UPDATE - 12/12@1:22PM: Some more coverage from CNN, The New York Times, The National Post, and The Washington Post.
UPDATE - 12/12@10:16AM: Donna Halper was interviewed this morning on CTV's Canada AM TV program to discuss her role in breaking Rush and her thoughts on their long overdue Rock Hall induction (thanks The Clansman 2112). You can check out video of the interview at this location.
UPDATE - 12/12@7:18AM: Here's some more news coverage from CTV News, The Detroit Free Press, Entertainment Weekly, SPIN and The LA Times. Here's an article on The Good, The Bad and The Ugly of this year's inductees from Future Rock Legends.
UPDATE - 12/11@8:33PM: Here's some video from today's announcement that the Rock Hall just posted to YouTube:
----- snip -----
UPDATE - 12/11@8:12PM: Here's a great article written by a once harsh critic of the band (he wrote the scathing 1982 Rolling Stone review of Signals) where he explains why he finally came around regarding Rush, and also helped put them into the Rock Hall by voting for them (thanks liquidmuse3).
UPDATE - 12/11@5:07PM: Here's some more coverage from HLNTV, Billboard, and Roadrunner Records.
UPDATE - 12/11@4:39PM: In case you missed it (it's linked in the original Rolling Stone article), here's the full interview Rolling Stone conducted with Geddy Lee (*SETLIST SPOILERS*) concerning the band's induction. Here's what Geddy said about his fellow inductees:
... I certainly have worked with Heart and I know them well. I'm very happy for them. I have great respect for Albert King and for Randy Newman. I don't know the music of Public Enemy very well, but I know they have a very strong fan base. They've certainly played a role in the development of that style of music for sure, so it's a nice group. To be frank, I am disappointed that Deep Purple is not included in that group. Certainly Heart and Rush would not sound the way we sound without Deep Purple. ...
----- snip -----
UPDATE - 12/11@4:30PM: And here's a CBC article with some more quotes from Alex Lifeson (thanks Andy G):
... "First of all, it's all water under the bridge and it was a very tiny bridge," he said in a phone interview from his home in Toronto. "I think our fans are more upset than we were because they feel a real bond to this band and it's been an important part of their lives in some form, and to be snubbed was snubbing them at the same time. Perhaps there were times when I thought if this ever happens I'm not going to bother going, or who cares or whatever, but at the end of the day positive karma is an important thing and this is an important thing to a lot of our fans and people we know." ...
----- snip -----
UPDATE - 12/11@4:17PM: Here's the band's official response that they posted at Rush.com:
"We are honored to be inducted into the Rock and Roll Hall of Fame. The 3 of us are especially appreciative of our loyal fans whose support and dedication has gone a long way to making this possible. P.S. And special thanks to our moms for voting 6000 times!" - Alex, Geddy, & Neil
Outgoing Rock Hall president and CEO had some comments regarding the induction in this Cleveland Plain Dealer article:
... "I'm not surprised by the way the voting turned out for a change," said Stewart, who is in the 14th and final year at the helm of the Rock Hall. Vice President of Development Greg Harris takes over on Jan. 1. Stewart laughed and said that Rush's win in the voting means, "I can turn off my email" from Rush fans who've been clamoring for their favorite band to be inducted. "I thought they'd get in eventually, and they did," Stewart said. "It's not a sprint. There are a lot of artists who get in later than they should." ...
Here's a Toronto Star article covering the band's induction announcement which includes several comments from Alex Lifeson (thanks BigLeaf):
... "I never really cared if it happened or not, to be honest with you," a cheerful Lifeson said down the line this week. "It doesn't change anybody's life at the end of the day. Are we going to become more popular? Are we going to sell more records? Are more people going to come to the shows? I don't know. We're quite happy where we are and with what we've accomplished. "So we continue to do the kind of work we want to do and we will continue regardless of our induction or not," he added. "I think at the end of the day, really, what this is about is making our fans feel like their support has been worthy." ...
----- snip -----
UPDATE - 12/11@2:19PM: IT'S OFFICIAL!!! Rush will be inducted into the Rock and Roll Hall of Fame!!! Here's the Rolling Stone press release:
The Rock and Roll Hall of Fame has officially announced next year's inductees: Rush, Public Enemy, Heart, Randy Newman, Donna Summer and Albert King will all join the class of 2013, with Summer, who passed away this May, and King, who died in 1992, earning the honor posthumously. Lou Adler and Quincy Jones will both receive the Ahmet Ertegun Award for non-performers.

"It's a terrific honor and we'll show up smiling," Rush's singer and bassist, Geddy Lee, tells Rolling Stone. "It made my mom happy, so that's worth it." Lee is especially happy for Rush's army of hardcore fans. "It was a cause they championed," he says. "I'm very relieved for them and we share this honor with them, for sure." ...
Also note that tickets to the ceremony will go on sale on January 25th.
----- snip -----
UPDATE - 12/11@2:13PM: Well, it's after 2PM so the press event has already started or will start soon. According to this Future Rock Legends Twitter post, we won't get any kind of press release until 2:30PM, but hopefully we'll get some word from other sources (Facebook, Twitter, etc.) before then. All the rumors/buzz I've been hearing this morning is indicating that Rush definitely got in, but nothing official yet. Stay tuned ...
UPDATE - 12/11@10:24AM: Public Enemy producer Sean Studdah Man De Vore posted a tweet congratulating Public Enemy on their induction - so it looks like that has leaked out too. Not surprising at all if true, and goes right along with the Future Rock Legends website predictions.
Back in early October the Rock and Roll Hall of Fame announced their annual list of nominees for induction and after 13 years of being snubbed, Rush finally made the cut. Over the past 2 months a group of 600 or so rock historians, music industry insiders and past inductees voted to see which of the 15 nominees should be included in the 2013 induction class. The Rock Hall also created for the first time ever a fan ballot where fans could vote in an online poll that would count as one vote towards the official tally. Voting closed last week and Rush was the clear winner of the poll with Deep Purple, Heart, Joan Jett and the Blackhearts and Albert King also making the ballot. Today at 11AM PST (2PM EST) Flea of The Red Hot Chili Peppers will be unveiling the 2013 class of Rock Hall inductees at a press event to be held at the Nokia Theater in Los Angeles - the venue where the 2013 induction ceremony will take place on April 18th of next year. Flea was inducted to the Rock Hall last year as a member of The Red Hot Chili Peppers and also happens to be a big Rush fan. As a former inductee he was eligible to vote for the 2013 class of inductees and according to this tweet from back in October it sounds like he voted for Rush:
put public enemy, kraftwerk, and rush in the rock n roll hall of fame right away
This and the fact that Rush was the overwhelming winner of the first ever fan ballot is a good indication that Rush will finally be selected as an inductee this time around. The Future Rock Legends website made this very prediction, using this line of reasoning:
This is the seventh year of the Future Rock Legends induction poll, which mimics the voting on the Rock Hall ballot. Every year, the top vote-getter in our poll has been inducted, but we have never felt less confident that the results of our poll have any correlation to the results of the Voting Committee. But our bet is that the Rock Hall won't give the middle finger to all of the fans by snubbing Rush in the same year they start an official fan poll that Rush absolutely dominated. (Deep Purple is the other overwhelming fan favorite in the polls, but it just doesn't seem possible both Rush and Purple would be inducted in the same year.)
Apparently some of the Rock Hall honorees are expected to attend the announcement event today although we're not sure at this time whether that means anyone from Rush will make an appearance. Neil Peart lives in LA, so you never know. Last night due to an administrative error, a press release announcing that Donna Summer was one of the inductees leaked out. Summer passed away earlier this year and was one of the favorites to garner an induction this year. You can read Geddy Lee's reaction to the band's Rock Hall nomination in this post and Alex Lifeson's here. Here's an Artisan News Service video where they speak with Flea's fellow Chili Pepper - drummer Chad Smith, who reveals that Rush was on his ballot too:
Related Posts:
[Rock and Roll Hall of Fame to announce 2013 inductees in a press conference next Tuesday, December 11th]
[Alex Lifeson talks Rock Hall, friendship and Rush's longevity in new Cleveland Plain Dealer interview]
[Cleveland Plain Dealer profiles Rush superfan Peter Chakerian in wake of Rush's Rock Hall nomination]
[Geddy Lee on Rush's Rock Hall nomination in new interview]
[Alex Lifeson on Rush's Rock Hall nomination in new interview]
[Rush Rock and Roll Hall of Fame nomination news updates]
[It's official! Rush FINALLY nominated for induction into the Rock and Roll Hall of Fame!!]
[Rush finally nominated for induction into the Rock and Roll Hall of Fame!?]