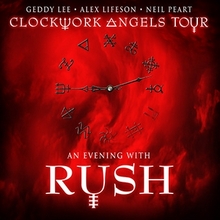 It's hard to believe it, but Rush's Clockwork Angels tour is down to its last 2 shows. They'll play a show in Denver tonight and then close things out on Sunday in Kansas City to what looks to be a sold out crowd. This past week the band played shows in Vancouver, Portland and Salt Lake City. The week before that they kicked off the western leg of the tour with a benefit show in Red Deer, Alberta as a replacement for the Calgary show that had been cancelled due to flooding. Earlier this week the band revealed via Rush.com that the show ended up raising $575,000 for the Alberta Flood Relief effort!
... "It is important to be a good neighbour in situations like these, and we are very grateful that we were able to amass such a huge sum that will undoubtedly help many of our fellow Canadians in need. Thanks to our partners who joined us in the effort, to all the great fans from all over Alberta who attended the show, the workers who donated their time along with us, and those fans abroad that supported via the special Flood T-shirt." - Geddy Lee ...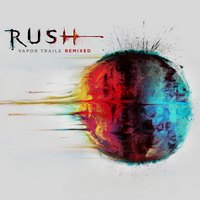 Although its disappointing that the tour is ending, we did receive a great bit of news earlier this week to help tide us over until Rush hits the road and/or the studio again. Yesterday the band announced that they will finally be releasing the long-awaited remix/remaster of their 2002 album Vapor Trails this coming October 1st. The album will be made available for purchase individually or as part of a new Atlantic-era Rush box set that will also be releasing October 1st. The Vapor Trails remix is already already available for pre-order on CD and on 180g vinyl from Amazon, as is the Atlantic-era box set. From Rush.com:
... "Vapor Trails was an album made under difficult and emotional circumstances - sort of like Rush learning how to be Rush again - and as a result, mistakes were made that we have longed to correct. David Bottrill's remixes have finally brought some justice and clarity to this deserving body of our work," says Geddy Lee. "Every song has been given a new life, from the fire of 'One Little Victory,' 'Secret Touch,' and 'Ceiling Unlimited' to the melodic musicality of 'Sweet Miracle' and 'How It Is'... these songs have been redeemed. Thank you David!" ...
The David that Geddy refers to here is Grammy-winning Canadian producer David Bottrill, who - along with Andy VanDette at MasterDisk - worked on the album's remix.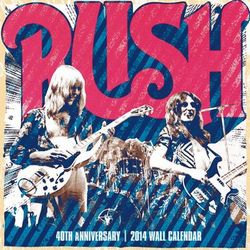 The official Rush 2014, 40th anniversary wall calendar from NMR Distribution is now available for purchase via Amazon and other retailers. Not surprisingly, the 2014 calendar celebrates next year's 40th anniversary of the release of Rush's first album back in 1974. The cover art includes the Rush explosion logo from the band's eponymous 1974 debut in the background with an early, 70s-era live photo of the band superimposed in the foreground with the words 40TH ANNIVERSARY | 2014 WALL CALENDAR. You can order your calendar today at this location. NMR distribution have also released a new 24"x36" commemorative tour poster for the band's first show with Neil Peart on drums - Rush's August 14th, 1974 appearance at the Civic Arena in Pittsburgh. You can order the poster via Amazon at this location.
Earlier this week Neil Peart once again updated the news page on his website with a story titled On Days Like These. Neil describes his motorcycle travels on the summer leg of the Clockwork Angels tour. In one passage, Neil refers to the Vapor Trails remix and how difficult it is for him to listen to the album:
... The band had recently been overseeing a remixed version of our Vapor Trails album, from 2002, as we had never been happy with how it turned out. I found that trying to listen to those songs again was too upsetting, taking me back to a mindset and emotional state that hadn't been good to live through then, or to relive now. I had to "recuse" myself from those judgments, and the Guys at Work understood, of course. ...
Speaking of Neil Peart and Vapor Trails, MusicRadar.com posted their list of the Top 20 Greatest Drum Beats of the Millennium earlier this week and Neil Peart's drum fill on Rush's One Little Victory made the cut at #6. It would have been nice if they got the album it was on right though. I guess it's the thought that counts. Here's what they had to say:
'One Little Victory', from Rush's magnificent Clockwork Angels album is one of Neil Peart's finest and most rocking beats. Beginning with a drum cadence, Peart proceeds to cover all bases throughout the driving pace of the track, following Geddy Lee's insistent bassline and matching the track's changes of pace with a fresh approach each time. His undeniable kit dexterity, time-keeping and invention are all on show once again, yet, crucially, he doesn't forget to rock out.
Keeping on the subject of Neil Peart, yesterday Sabian announced that they are releasing a limited run of the Neil Peart 22" Paragon Steampunk Ride graphic cymbal. For all the details check out the press release from Sabian.com. And Buzzfeed's copyranter posted their list of the 10 Best Rock Drummers Ever earlier this week and Neil Peart came in at #1:
I'm putting The Professor #1 for one simple reason: I don't want to be hunted down and drawn and quartered by the Legionnaires of the Rush Army. Also, Peart is precise rock drumming personified. I've seen Rush in concert five times, starting with "2112" tour and ending with "Moving Pictures" (Rush's last good album) tour. To have watched him live, in his prime, is one of my life's joys.
Way back in early 2012 we first learned that Neil Peart had played drums on a couple of tracks for the next Vertical Horizon album, which was finally completed back in May and is titled Echoes from the Underground. There's no release date given for the album yet, but the first single is called Broken Over You and was released online for free download earlier last month. It's not clear if Neil played on this track or not, but it doesn't sound like it. At this point all we know is that Neil played on at least 2 tracks; Instamatic and another unnamed track. Vertical Horizon frontman Matt Scannell was recently interviewed for CBS Pittsburgh and spoke a little about Neil's involvement:
... "The other major contribution from a dear and wonderful friend is Neil Peart, the drummer from Rush, plays on two songs. One is called "Instamatic" and his drum performance is a master class. Of course, it's going to be amazing if he's playing on it. He is one of the best ever. He deserves that title. But, this performance in particular to me, is almost like it's sort of an overview of his entire career. I can hear elements from all the different chapters of his development as a player. And it's such an honor to have him play on the record," Scannell said. ...
Here's some video of Neil in the studio with Vertical Horizon from back in early 2012. Neil had also made a guest appearance on Vertical Horizon's 2009 album Burning the Days, playing drums on three of the tracks along with penning the lyrics for one. Vertical Horizon is currently on tour this summer supporting the album as part of the Under the Sun tour. For all the latest information on the album and tour, visit the Vertical Horizon website here.
The Toronto Globe and Mail ran a feature in the Home & Garden section of yesterday's edition where they profile Alex Lifeson's brand new country home. The house is set on an 8 1/2-acre parcel carved out of a century farm to the north of Toronto. Alex's wife Charlene and Toronto-based architect Dimitri Papatheodorou are interviewed in the article and several photos are on display. From the article:
... "It was pretty obvious that the house wanted to align with the cosmos," [Papatheodorou] says. Now the rolling hills north of Toronto offer a tranquil setting for family gatherings, and the trees provide seclusion for Mr. Lifeson during downtime from a demanding schedule of touring as guitarist for the hallowed Canadian rock band Rush. ... Ms. Zivojinovich says the floor-to-ceiling windows and many walk-outs along the south façade make the large outdoor living room seem like an extension of the interior. "It does feel as if the outside and inside are really connected," she says. Now the Lifesons' young grandchildren enjoy the family haven as much as the adults do. Everyone has started referring to the place in the country by the moniker coined by one young grandson, says Ms. Zivojinovich. "He always asks, 'Are we going to the special house?'"
Speaking of Alex, the Domenic Troiano Guitar Awards Trustees, of which Alex Lifeson is a member, recently announced via a press release their new Domenic Troiano Guitar Awards where three $5,000 prizes will be awarded annually to Canadian guitarists in the categories of Jazz, Multi-Genre and Classical. The press release contains the following quote from Alex Lifeson:
"On June 30, 1967, I saw the Mandala at the North York Centennial Arena. At the side of the stage Donny gave me his autograph and his Mandala button. He told me how important it was to keep practicing and if I worked hard, I might get the chance to stand on stage and play for people some day. I was beaming. He was my first real inspiration and to this day I have a deep love and admiration for a man who truly knew the meaning of soul. I am proud to be a humble part of his enduring influence".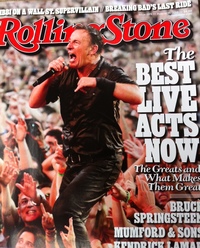 The latest edition of Rolling Stone magazine (issue #1189, August 15th) hit subscribers' mailboxes earlier this week and the issue contains a feature where a panel of experts have compiled a list of the 50 greatest live acts right now. The cover tagline reads The Best Live Acts Now: The Greats and What Makes Them Great. Rush made the list at #39 as shown in this scan. The list was also posted online at this location. The print edition just lists Rush at #39 with no accompanying commentary, but the online post includes the following:
39. Rush: Four decades into their career, Geddy, Alex and Neil still put on the same kind of incredible show that destroyed pot smoke-clogged arenas back in the Seventies, mixing oldies like "The Spirit of Radio" and "Subdivisions" big chunks of their excellent 2012 album Clockwork Angels. Neil Peart, now 60, remains the single greatest drummer alive and guitarist Alex Lifeson is almost as versatile and powerful as the dude sitting at the massive kit behind him. "Every song rates a standing ovation," says Metallica manager Cliff Burnstein.

Showstopper: Rush don't play a single song from the 1970s during their main set, but in the encore they bust out three sections of their 1976 magnum opus 2112.
CBC Music has compiled their list of the 100 greatest Canadian albums ever with the help of a diverse array of Canadian musicians, writers, actors and artists. Over the past few weeks they've revealed the list on the CBC Music website and 2 Rush albums made the cut. Coming in at #100 was Rush's Moving Pictures album and at #17 was Rush's breakthrough 2112 album.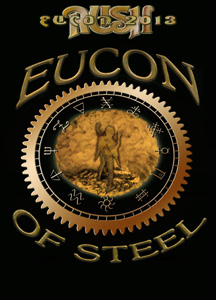 Rush Eucon 2013 Eucon of Steel will take place on Saturday, October 12th at the Queens Social Club in Sheffield, England from 1PM to midnight. The event will future music from Rush tribute band Bravado with all proceeds being donated to Guide Dogs for the Blind. In addition to a 2 hour set of classic Rush songs by Bravado, the event will include Rush Idol (live band karaoke where you can play a Rush song or sing a Rush song), a Rush trivia pub quiz, a Rush air guitar competition, a Rush raffle/auction (to raise funds for Guide Dogs For The Blind charity), and plenty of other surprises. There are still tickets available through www.rusheucon.co.uk or via PayPal at sales@rusheucon.co.uk. For all the details visit the Rush Eucon website or follow them on Facebook.
Author and music journalist Martin Popoff's new illustrative history of Rush titled Rush: The Illustrated History was released back in May. PopMatters posted a lukewarm review of the book this past week saying the following:
... Rush fans will easily snatch this book up based on its subject. Non-Rush fans can glean all they may need to know from the band by watching the 2010 documentary. There's no in-between audience that Rush: The Illustrated History will appeal to, although reading it might revive interest in Rush's vast back catalog and potentially grant "Tom Sawyer" and "Limelight" a few more spins on classic rock radio.
To order your copy of Rush: The Unauthorized Illustrated History via Amazon, go to this location.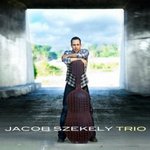 Clockwork Angels String Ensemble member Jacob Szekely just released a new self-titled CD with his Jacob Szekely Trio project. The CD just received a great review from The International Review of Music, and Geddy Lee also had some great things to say about it:
"Jacob has produced an emotive, innovative and thoroughly modern fusion of musical styles ... A strikingly original virtuoso cello statement.... Beautifully performed and uniquely arranged." - Geddy Lee
It's available both on iTunes and from Amazon.

One of the recurring themes on FX's animated sitcom Archer, is how Krieger's van mural is periodically updated with with some kind of Rush album-themed design, with 4 different Rush van murals on the show to date. During the season 3 finale Space Race: Part 2 the van was given a Caress of Steel-themed mural with the lettering reading Caress of Krieger (screenshot here). On the finale of season 2 the van had an Exit ... Stage Left-inspired mural which read Exit ... Van Left (screenshot here), and earlier in season 3 the mural had been updated to a Rush Hemispheres theme (screenshot here). And the most recent Rush-themed mural occurred earlier this year (Season 4, Episode 2 - The Wind Cries Mary) when the van's mural was updated with a Fly By Night theme, showing the familiar album cover with the title as Van By Night and the owl's face replaced with an image of Krieger's face (screenshot here). One Archer fan who attended last month's ComicCon in San Diego decided to go ahead and duplicate Krieger's Van by Night mural on their own, real-life van. Reader Tom spotted the van at a Target in San Diego and snapped this photo.
Last night's episode of the History Channel's Pawn Stars included a Rush reference when a customer came into the shop to try and sell his collection of Chu-Bops; miniature album covers with a piece of gum inside. One of the albums in the collection was Rush's Permanent Waves, which led to a brief discussion about Rush between Rick Harrison (the owner of the pawn shop) and his son Corey. You can watch a video clip of the reference on YouTube at this location (thanks John at Cygnus-X1.net).
And speaking of Permanent Waves, Rush was the subject of the latest Gateways to Geekery in The Onion's A.V. Club yesterday. The article gives an introduction to Rush and instructions on how someone can become versed in their music, beginning with Permanent Waves. You can check it out online at this location.
The New England Patriots inducted linebacker Tedy Bruschi into the Patriots Hall of Fame this past Monday afternoon. To celebrate the occasion, Boston radio's The Toucher and Rich Show posted some audio from a few years ago when they had Bruschi on the program to do some commercial voiceovers. They also ran a little skit/game where Tedy Brushchi transformed into Geddy Bruschi and read some Rush lyrics for listeners who then had to guess the Rush song. You can listen to the clip online at this location.
Reader GeddyJr located this old HBO clip of comedian David Spade from a 1998 HBO comedy special. At around the 28-minute mark Spade goes into a bit involving Rush and Geddy Lee that lasts about 30 seconds. You can check it out on YouTube at this location.
Ten years ago this past Tuesday, July 30th, Rush played to an estimated crowd of 450-500 thousand people at the Molson Canadian Rocks for Toronto concert (SARSstock) along with The Rolling Stones, AC/DC and may others. You can watch a video of their entire 35-minute set below or at this location:
That's it for this week. A big thanks on behalf of all my readers to Rush, their road crew, SRO/Anthem, and the Clockwork Angels String Ensemble for one awesome tour. It'll be sad to see it end Sunday. Have a great weekend everybody!