UPDATE - 7/27@9:47PM: Here's a photo gallery that was posted over at Cygnus-X1.net.
UPDATE - 7/27@12:36PM: Here's a review from The Province.
UPDATE - 7/27@8:02AM: Reader AaronK reports that the band played their Night B - version 3 set. Official photos are also posted over at Rush.com. And here's a review and photo gallery from the Vancouver Sun.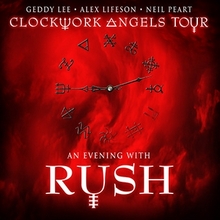 Rush hits the westernmost stop on the Clockwork Angels tour tonight when they fly the airship into the Rogers Arena in beautiful Vancouver. Including tonight there are only 5 shows left of the 2013 tour. CTV and Live Nation are running a contest to win a Rush VIP Experience package that include 2 front row tickets to tonight's show, a meet and greet and more. Just watch CTV Morning Live from now until 8AM PST (11AM EST) to learn how you can win. For all the details visit the CTVNews website here. The band is due to play one of their Night B sets for tonight's crowd. I'll post confirmation of this as soon as I learn about it. For everyone going to the show tonight, have fun, be safe, and make sure to share your photos, videos and reports with us. Rush on!!
Date/Time: Friday, July 26th @ 7:30PM (10:30PM EST)
Show Number: 33
Venue: Rogers Arena
Place: Vancouver, BC
gallery: [view] [upload] [YouTube videos]
reviews: [reviews] [setlist]