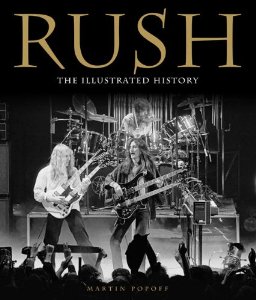 We learned earlier in the year that author and music journalist Martin Popoff is following up his 2004 Rush biography Contents Under Pressure with a new illustrative history of the band titled Rush: The Unauthorized Illustrated History. The book was scheduled for a May 30th release but has already begun shipping from several online retailers including Amazon.com. From the book's description:
... for the first time, Rush is treated to the epic visual celebration they so richly deserve in a beautifully designed and profusely illustrated history following the band's entire career. A chronological overview history written by noted music scribe and Rush authority Martin Popoff spans the band's entire career from 1968 to today. A complete Rush discography chronicles all their albums, from the debut album to 2112, Moving Pictures, and Signals to Grace Under Pressure, Vapor Trails, and more. The authoritative text is complemented by album reviews written by well-known music journalists from around the globe, commentary from fellow musicians, a discography, tour dates, and hundreds of photographs and pieces of memorabilia, including picture sleeves, gig posters, rare vinyl, handbills, ticket stubs, and much more.
For details and to order your copy via Amazon, go to this location. Popoff will be appearing at this year's RushCon to talk about the book and sign copies for fans. Thanks to Steve for the heads up.