UPDATE - 8/1@11:18PM: Here's a gallery of photos that was posted over at Cygnus-X1.net.
UPDATE - 8/1@2:33PM: Here's a review from The Daily Herald.
UPDATE - 8/1@10:08AM: Reader Jeff J attended the show and confirms the Night B - version 5 setlist.
UPDATE - 8/1@7:50AM: I'm still trying to confirm it, but from this Salt Lake City Tribune review (thanks Kelly P) it looks like the Night B - version 5 setlist was played. Official photos are also posted over at Rush.com.
UPDATE - 7/31@1:28PM: The Salt Lake Tribune ran a contest to win tickets and a meet-n-greet for tonight's show. Entrants had to write up an answer to the question "How would seeing in concert and actually meeting Alex Lifeson, Geddy Lee and Neil Peart change your life for the better?", and the winning answer was published in today's edition.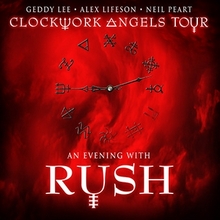 Rush rolls the Clockwork Angels tour to the USANA Amphitheatre outside Salt Lake City tonight for the 3rd to last stop of the 2013 tour. The band is due to play one of their Night B sets for the Salt Lake City fans. I'll post confirmation of this as soon as I learn about it. For everyone going to the show tonight, have fun, be safe, and make sure to share your photos, videos and reports with us. RUUSSHH!!!!!
Date/Time: Wednesday, July 31st @ 7:30PM (9:30PM EST)
Show Number: 35
Venue: USANA Amphitheatre
Place: West Valley City, UT (outside Salt Lake City)
gallery: [view] [upload] [YouTube videos]
reviews: [reviews] [setlist]