UPDATE - 7/31@10:03AM: Here's a review from the Portland Mercury.
UPDATE - 7/30@9:33AM: Here's a great gallery of photos that was posted over at Cygnus-X1.net.
UPDATE - 7/29@3:51PM: Here's a review from The Oregonian.
UPDATE - 7/29@11:47AM: 105.9 The Brew ran a contest where they gave away 4 backstage passes to the show along with a limited edition Fender Squier Geddy Lee Clockwork Angels bass guitar. They posted video earlier this week of winner Clark Buckley coming to claim his prize. You can check it out here.
UPDATE - 7/29@6:59AM: Reader Isorski reports that the Night A - version 3 setlist was played, and that several Happy Birthday Geddy signs were spotted. During YYZ some of the crew came out in funny clown outfits and hats holding a happy birthday sign upside down, and acting drunk. Official photos are also posted at Rush.com.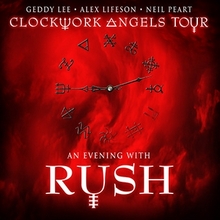 Rush brings the Clockwork Angels tour to the Sleep Country Amphitheater outside Portland tonight for stop number 34 on the 2013 tour. Including tonight there are only 4 shows left of the 2013 tour. The band is due to play one of their Night A sets for the Portland crowd. I'll post confirmation of this as soon as I learn about it. For everyone going to the show tonight, have fun, stay safe, and make sure to share your photos, videos and reports with us. Rush!!!!!
Date/Time: Sunday, July 28th @ 7:30PM (10:30PM EST)
Show Number: 34
Venue: Sleep Country Amphitheater
Place: Ridgefield, WA (outside Portland, OR)
gallery: [view] [upload] [YouTube videos]
reviews: [reviews] [setlist]