To say that the last couple of weeks have been a busy time for Rush would be grossly understating things. Last Thursday, April 18th the band was FINALLY inducted into the Rock and Roll Hall of Fame in a ceremony at the Nokia Theatre in Los Angeles. Rush and their fans completely took over the night, overshadowing the other inductees and putting on yet another incredible performance. If you weren't able to attend the ceremony, HBO in the US and Canada will be broadcasting an edited, 2-hour version on May 18th. There's also plenty of video floating around YouTube. For full coverage of the event including videos, photos, fan reports, interviews and more - check out this post. In addition to the induction, this past Tuesday, April 23rd the band kicked off the 2013 leg of their Clockwork Angels tour to a very enthusiastic crowd in Austin, TX. As anticipated, the band didn't shake things up with the setlist or visuals at all and kept things the same as on the 2012 leg, performing their Night A (version 4) setlist. They'll take the Caravan to Florida this weekend for shows number 2 and 3; tonight they'll be in Ft. Lauderdale then they'll head to Orlando on Sunday. The 2013 leg of the tour will consist of 37 shows in total, including a 10-date stint in Europe, and will wrap up on August 4th in Kansas City. As if all this wasn't enough, the band was also awarded the Juno for Rock Album of the Year for Clockwork Angels this past weekend, and the band along with a few other Canadian artists will be featured in a Canadian Recording Artist stamp series this coming July. Now that the induction ceremony is over and everyone has probably watched all the YouTube videos multiple times, I thought that for my next poll I'd ask everyone what they thought was the highlight of the induction ceremony. Take the poll and let us know.
There were a countless number of interviews, articles and radio specials leading up to Rush's induction last week. They were featured in an hour-long special on the nationally-syndicated radio program Off the Record with Joe Benson, and also on In the Studio with Redbeard. Alex and Geddy also participated in a number of interviews in the week before the induction; they were interviewed by the Cleveland Plain Dealer, the Hamilton Spectator, the Toronto Sun, USA Today, the Village Voice, and Billboard Magazine to name a few. The pair also attended a Q&A session at a special screening of Beyond the Lighted Stage at ArcLight Cinema in Los Angeles 2 days before the induction. The Toronto Star released a special e-dispatch story on Rush titled Rush: An Oral History the day of the induction which can be purchased at this location. Toronto Star journalist Vinay Menon conducted separate and lengthy interviews with all 3 band members, their parents and wives, record execs, producers, management and more; you can check out an excerpt online here. And Ann Hoevel wrote this great piece for CNN.com that was featured on their home page last Thursday which includes interview segments from Sam Dunn, Scot McFadyen, Chris McDonald and yours truly (also a photo of my son and I meeting Alex and Geddy!).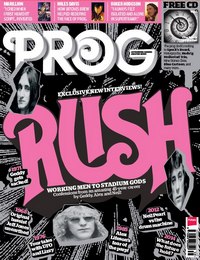 The latest issue of Prog magazine went on sale last week, and the issue contains a 14-page Rush cover feature which includes 45 stories from 45 incredible years together. There are a lot of interesting bits of trivia and tales from the band's early days that not every Rush fan may have heard about. Geddy Lee also finally addresses claims by The Runaways that Rush were jerks to them when they opened for Rush back in 1977, as was dramatized in the movie biopic The Runaways. Jett said the following in a 2010 interview with JAM! Music:
... Joan Jett says members of Rush were anything but polite Canucks when the Runaways opened for them in the 1970s. In the new film biopic about the band titled The Runaways, Jett (played by Kristen Stewart) is derided by an unidentified rock group they're opening for. She later retaliates by breaking into their dressing room and urinating on one of their guitars. Jett doesn't hesitate to identify the real-life inspiration for the scene. "Rush! They sat on the side of the stage and laughed at us," Jett says. "That sort of stuff pisses me off." ...
Here's what Geddy had to say about it:
"The Runaways had a ginormous chip on their shoulders. I remember that show. We had trouble with our gear so our soundcheck got delayed and The Runaways never got one. But we were always good to whoever was opening for us. We had no bias against them because they were girls - none of that bullshit. I know they said that we were laughing at them when they played, but quite frankly they were too shitty to listen to. And 40 years later they have a story to tell about it. Who knew?"
A special, limited edition hardback version of the issue is also available which contains an additional 12 pages of Rush coverage.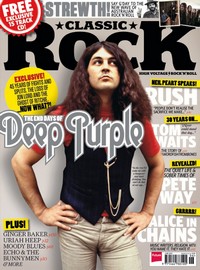 A new interview with Neil Peart is featured in the June, 2013 issue of Classic Rock magazine. Classic Rock posted an excerpt from the interview online earlier today and Neil discusses how he still feels totally betrayed by an NME journalist who interviewed him back in 1977. He goes on to describe his current political philosophy:
... "I believe in taxation and health care that is outside the usual libertarian mandate, because I don't want people to have to suffer. It's as simple as that. If people are suffering and I can help, I want to. But here's the difference between being an idealist and a realist. Idealistically, I believe that we should help people. But realistically, do I think that government will do that? No."... "[Libertarianism is] enlightened self-interest. Free will. I've lived in the US for the last 10 years, and I wanted there to be a health care system. The little bit that there is, it's a wonderful thing. So that's an example of what I consider enlightened self-interest. That's why I'm a bleeding-heart libertarian. "Paul Theroux said: 'A cynic is a disappointed idealist.' But I'm not a cynic. I'm not disappointed. I've just broadened my idealism." ...
John at Cygnus-X1.net has a pdf scan of the entire article available on his website.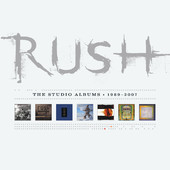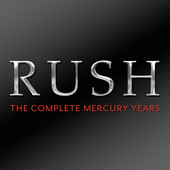 This coming May 14th iTunes will be releasing 2 digital-only Rush collections; Rush The Complete Mercury Years and Rush: The Studio Albums 1989-2007. Rush The Complete Mercury Years will contain Rush's complete Mercury catalog (all their albums up through A Show of Hands) for $79.99, including the new 2112 Deluxe Edition and the 2008 Working Man compilation. Rush: The Studio Albums 1989-2007 will contain the entire Atlantic-era Rush studio catalog (Presto through Snakes & Arrows) for $49.99. Both collections are digital only and mastered for iTunes.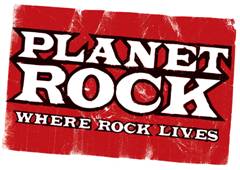 UK digital radio station Planet Rock is running a contest where you could win a pair of front row tickets and meet and greet passes to one of the 5 upcoming UK Rush tour dates. From the Planet Rock website:
Rush will be hitting the UK in May as part of their Clockwork Angels tour, and we are giving you the chance to get up close and personal by winning front row tickets! We have pairs of tickets to give away for all five gig dates which include a meet and greet with the band! ... All next week, our resident Rush expert, Darren Redick, will be playing you Rush songs on-air. What makes this different from every other week, is that each song will be given a special twist when it is played out around 5pm. Darren will be adding his own unique musical flavour to each song by playing guitar, bass, keyboards, or possibly even singing! ... When you hear the Darren Redick remix of the Rush song, just text 81400 starting with the word PLANET.* Darren will then call three people, who will go head to head in a rock quiz. Whoever is crowned winner will win a pair of front-row seats to see Rush! ...
You can get all the details and listen live to Planet Rock at the Planet Rock website.
Author, Rush fan and RIAB reader Phil Simon kicked off a new Kickstarter project this morning which aims to publish a non-fiction book by Rush fans for Rush fans. The idea came upon him at a Casey's Irish Pub pre-party for the Rock Hall Induction last week in Los Angeles as Phil explains here:
... I got the idea to let everyone introduce themselves on stage. Pretty basic stuff: name, location, and favorite Rush moment. ... This got my big brain thinking. What about a book by Rush fans for Rush fans? ... My goal here is to create a professional book with amazing stories from people with the same Rush moderation issues as yours truly. ...
The project is tentatively titled Modern-Day Warriors: Inspirational Stories of Rush Fans and aims to raise $20,000 over the next month to kick it off. This sounds like a great idea and if anybody can pull it off, Phil can - especially with help from a legion of Rush fans. Besides being a huge Rush fan, Phil Simon is a sought-after speaker, author of five books, and a recognized technology expert - so he does know a good bit about book publishing. For all the details and to contribute to the project, visit the project's Kickstarter page.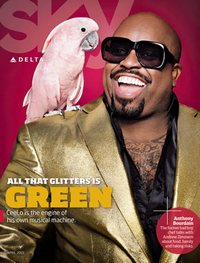 Singer/rapper/producer Cee Lo Green was interviewed for the cover feature in the April issue of Delta's Sky magazine and mentions Rush's Moving Pictures when discussing the current state of the music industry, art and product placement:
... "There's a difference between art and product," ... "Maybe I can help make art product again. You know what I'm saying? It once was. Is Rush's Moving Pictures not art? You feeling me? Where are those progressive bands anymore? Why isn't it allowed? It's almost a conspiracy, if you ask me." ...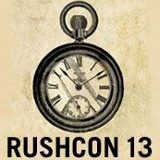 The folks at RushCon recently revealed that author Martin Popoff will be appearing at the convention to present his new book Rush: The Illustrated History which releases on May 15th. Martin will also sign and sell his collection of Rush related books. The 13th annual RushCon will be held in Toronto on July 5-7th, 2013 to coincide with the Rush concert in Hamilton, ON on July 6th. The convention will consist of 3 days of Rush-filled events, including a Friday night opening mixer with a private tour of Massey Hall, a Saturday day trip to Lakeside Park, the Rush show in Hamilton Saturday night, an Anthem Records tour on Sunday, a full day of convention events at the Hard Rock Cafe on Sunday, and a private party at the Orbit Room Sunday night! You can register now online at this location. For all the details just go to RushCon.org, and be sure to follow RushCon on Facebook and Twitter to stay up to date on all the latest RushCon news.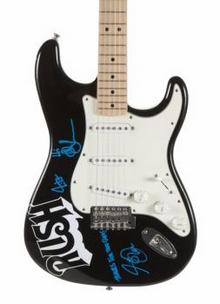 A black Fender Stratocaster electric guitar signed by Rush will be up for bidding in the Julien's 2013 Music Icons Auction next month. The guitar was signed by all three members of Rush using a blue pen with the additional messages of Thanks For the Gifts from Geddy Lee and Hi from Alex Lifeson. The guitar also has a Rush sticker affixed to the body. The auction will take place live and online on Saturday, May 18th at the Hard Rock Cafe Times Square in New York City. A free public exhibition will be in place at the Hard Rock Cafe the week leading up to the auction. For all the details visit the Julien's website.
Rush will be hitting the Bridgestone Arena in Nashville this coming Wednesday, May 1st and Rush Fans of Tennessee will be hosting their 4th annual pre-show party at McFadden's restaurant from 3-6PM. There will be Rush karaoke and a Prophetic Robe contest. Fans must RSVP and passes are required to attend. For all the details visit the Rush Fans of Tennessee website.
On Wednesday Rush released a short, 2:45-minute mini-documentary of Tuesday night's show in Austin to promote the 2013 Clockwork Angels tour. The video features footage of fans before, during and after the show along with video of the band playing on stage. There are no real setlist spoilers, but it does have footage of the stage set-up. You can watch the video below or on YouTube here.
That's all for this week. Have fun seeing Rush this weekend Florida Rush fans!