UPDATE - 4/24@11:02AM: Here's a Facebook photo gallery (thanks bbrisk).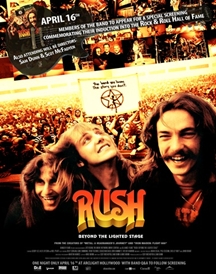 In the lead-up to Rush's Rock and Roll Hall of Fame induction tomorrow, the ArcLight Cinema in Los Angeles hosted 2 special screenings of the Rush documentary Rush: Beyond the Lighted Stage last night. The 7PM screening was followed by a Q&A session with Geddy Lee and Alex Lifeson hosted by Jim Ladd. The 8:30 screening was followed by a Q&A with directors Sam Dunn & Scot McFadyen. Reader Kelly D was at the screening and posted a few of the more memorable quotes from the Q&A to her Twitter feed:
Q: "What's 1 word that comes to mind about all this- Alex, you can't say 'chicks'!" A: "The 1st word? 'Holy shit.'" "Is that two words?"

Geddy re: touring after "the bad time" in the late '90s: "Sometimes out of a bad time, a good thing comes"

Jim Ladd: "You seem to genuinely like each other!" Geddy: "Yeah, we're good at faking that"

Alex: "Against the man-" Geddy: "The naked man" - @rushtheband re: Caress of Steel and 2112

"Like most Canadian families, we filmed dinner" -Al of @rushtheband on Come on Children's spot in #BTLS :D
She also posted a Facebook gallery of photos and a couple of YouTube videos. Here's a great clip where the guys briefly discuss Clockwork Angels. And in this video Geddy Lee relays a funny story about the recording of Rivendell.