UPDATE - 4/25@4:47PM: Here's a photo gallery from CultureMap Austin.
UPDATE - 4/25@3:17PM: Here's a photo gallery from The Austinist.
UPDATE - 4/25@8:39AM: Here's a review and photo gallery from The Horn.
UPDATE - 4/24@5:49PM: Rush has released a short, 2:45 mini-documentary of last night's show in Austin to promote the 2013 Clockwork Angels tour. The video features footage of fans before, during and after the show along with video of the band playing on stage. There are no real setlist spoilers, but it does have footage of the stage set-up. You can watch the video below or on YouTube here.
----- snip -----
UPDATE - 4/24@5:07PM: Alex and Geddy are featured in a photo from last night's show in Rolling Stone's Hottest Live Photos of 2013 photo gallery.
UPDATE - 4/24@1:18PM: Here's a review of the show from the Austin Chronicle.
UPDATE - 4/24@1:01PM: Rush Fans in Central Texas coordinated a sign attack at last night's show where they passed out signs which contained the word Blah (in reference to Alex Lifeson's Rock Hall induction speech) which were held up when Geddy said, Hello Austin. Rush.com featured a photo of the signs in their official photo gallery from last night, and reader DeWayne H sent along some photos of the actual signs too.
UPDATE - 4/24@12:40PM: Official photos from last night's show are now posted at Rush.com.
UPDATE - 4/24@11:07AM: John over at Cygnus-X1.net has posted a gallery of photos from last night's show.
UPDATE - 4/24@10:30AM: It looks like the band had some good barbecue after the show according to these two Twitter posts.
UPDATE - 4/24@9:49AM: Here's a Facebook photo gallery from Rush keyboard tech Jack Secret.
UPDATE - 4/23@11:26PM: They are almost finished with the 2nd set. Unless they surprise us in the encore, it looks like Night A - version 4.
UPDATE - 4/23@10:36PM: The intermission is over and the introductory video for the 2nd set was also the same as on the last leg. Judging by the 1st set, they are playing either Night A - version 4 or Night A - version 6. Geddy apparently has a new bass and Alex has broken one guitar string 3 songs into the second set. A big thanks to Kelly D for the live updates!
UPDATE - 4/23@9:44PM: Now it's looking like they are doing a Night A set instead of B as we had anticipated. Maybe Night A - version 4 or Night A - version 6.
UPDATE - 4/23@9:23PM: Rush threw in a surprise for the 5th song, although it's nothing they didn't play on the last leg. So they might be doing Night B - version 5.
UPDATE - 4/23@9:18PM: Geddy and Alex are making blah blah jokes. Following Night B setlist 3 songs in so far.
UPDATE - 4/23@9:05PM: Rush has taken the stage in Austin. The opening video was the same as last tour as was the opening track.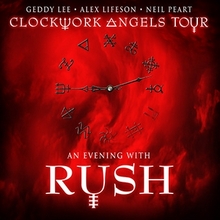 The time is now again! Rush ended the 2012 leg of the Clockwork Angels tour nearly 5 months ago in Texas, and that's where they'll pick things up again on the 2013 leg tonight at the Frank Erwin Center in Austin. It'll be their first show of 2013 and their first show as Rock and Roll Hall of Fame inductees, so it should be a doozy. The band has indicated in interviews that they would not be altering the setlist at all for this leg, and that things would stay relatively the same; where they alternate between an A and B setlist, swapping out a few songs here and there. There was a grainy image of the setlist floating around online yesterday, and going by that they'll be playing the Night B, version 3 setlist - which makes sense since they ended on the Night A set on the last leg. But we'll just have to wait and see to be sure. I'm 99% certain there won't be any songs played that they didn't already play on the last leg though unfortunately. However, I hear that we might get some new visuals. As always, I'll report any notable setlist or show changes in this post (with appropriate spoiler warnings). The Rush Backstage Club has released some new Clockwork Angels merchandise in celebration of the new tour which you can check out here. Rush Fans in Central Texas are sponsoring a pre-show meet-up at The Brick Oven for anyone interested. For everyone lucky enough to be attending tonight's show, be sure to share your reports, photos and videos with us. Have a blast! Rush is back!!!
Date/Time: Tuesday, April 23rd @ 7:30PM
Show Number: 1
Venue: Frank Erwin Center
Place: Austin, TX
gallery: [view] [upload] [YouTube videos]
reviews: [reviews] [setlist]
Related Posts:
[Clockwork Angels 2013 tourbook now available at the Rush Backstage Club]
[Rush Backstage Club contest: Win a Rush meet & greet!]
[Rush Clockwork Angels tour concert video to release September 24th]
[Rush Clockwork Angels official Summer tour date announcement]
[Rush Clockwork Angels tour official tour dates; Halifax and Hamilton]
[Rush Spring 2013 Clockwork Angels North American tour official tour date and pre-sales announcement]
[Rush Clockwork Angels tour official attendance and sales figures]
[Clockwork Angels tour opening night in Manchester open thread]
[Follow the Clockwork Angels tour on Twitter]
[Official Rush 2012 Clockwork Angels tour announcement and dates!]