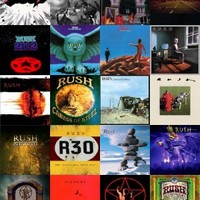 As previously reported, syndicated radio program In the Studio with Redbeard will be airing a special program all this week celebrating Rush's upcoming induction into the Rock and Roll Hall of Fame. The complete special is also already available for streaming online at this location. From the In the Studio website:
Rush has recorded and released twenty studio albums ( and additionally about half that many as live albums and DVDs) , selling an estimated forty million copies worldwide in a four decade recording career. So you see our obvious dilemma in choosing just one album, or even just one era to feature, as we honor Rush for their long-overdue induction into the Rock and Roll Hall of Fame this week. So we polled our In the Studio Rush fans on Facebook, and while there was considerable support for practically any period of the Toronto band's history, the consensus was for the first half-dozen years starting with their 1974 debut Rush , through formative albums A Farewell to Kings , Hemispheres, 2112 , Permanent Waves , and book-ended with their masterpiece Moving Pictures in 1981, all conveniently dubbed Sector 1 by my guests Geddy Lee, Alex Lifeson, and Neil Peart. -Redbeard
The program doesn't seem to contain any new or recent interview segments, but instead consists of recycled interviews from past In the Studio appearances. For a list of stations and air times visit this link. Thanks to Lindsay D for the heads up.