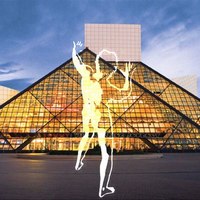 USA Today published an article yesterday on Rush's upcoming Rock Hall induction where they speak with both Geddy Lee and Alex Lifeson, along with Taylor Hawkins, Rolling Stone associate editor Andy Greene, and Rock Hall assistant curator Meredith Rutledge-Borger. Geddy Lee is relieved for the fans:
... I also hope this means other great bands like Yes will follow suit," says Lee. "Deep Purple was on the ballot this year, and I was hoping they'd get in with us. We wouldn't be the band we are without Deep Purple's existence." ...
And Alex added this bit:
... Lifeson says he hopes Rush's inclusion "opens the doors for bands like the Moody Blues and King Crimson, who had a huge influence. It's a bit ironic, really. Rock music was born in rebellion, so it's odd to have (a Hall of Fame) where there seem to be guidelines for who's acceptable and who's not." ...
Taylor Hawkins along with his Foo Fighters bandmate Dave Grohl will be inducting Rush at tomorrow night's ceremony and had the following to say:
... "There were five or so bands that shaped the way I play music, but the way Neil played those drums, I don't know what to say," says Hawkins. "He has the hands of God. The way he can roll from those 6-inch toms to the 18-inch toms, no one can do that. Then you add in those amazing melodies and those '70s lyrics that were so Dungeons & Dragons and you have an incredible combination." ...
You can read the entire article/interview online at this location (thanks Eric at Power Windows). The induction ceremony will take place at the Nokia Theatre in Los Angeles tomorrow, April 18th with a truncated, 2-hour version being broadcast on HBO in the US and Canada on May 18th. The show is sold out but plenty of tickets are still available on a number of broker websites, and VIP ticket packages are also available (see rockhall.com for details).
Related Posts:
[Geddy Lee talks Rock Hall induction in new Toronto Sun interview]
[Geddy Lee and Alex Lifeson talk Rock Hall induction in new interviews]
[Founding Rush drummer John Rutsey excluded from Rock Hall induction as a member of Rush]
[2013 Rock Hall inductees exhibit opens April 16th]
[Rock Hall induction ceremony update from RollingStone.com]
[Rush on their fellow 2013 Rock Hall inductees in new Rolling Stone article]
[Reduced-price $100 Orchestra and Loge level tickets for Rock Hall induction ceremony released by Ticketmaster]
[Yes' Chris Squire, Coheed and Cambria's Claudio Sanchez comment on Rush's Rock Hall induction in recent interviews]
[Foo Fighters to induct Rush into the Rock and Roll Hall of Fame; induction ceremony pre-sale details released]
[Rock and Roll Hall of Fame inductee announcement open thread]
[Rock and Roll Hall of Fame to announce 2013 inductees in a press conference next Tuesday, December 11th]
[Cleveland Plain Dealer profiles Rush superfan Peter Chakerian in wake of Rush's Rock Hall nomination]
[Rush Rock and Roll Hall of Fame nomination news updates]
[It's official! Rush FINALLY nominated for induction into the Rock and Roll Hall of Fame!!]
[Rush finally nominated for induction into the Rock and Roll Hall of Fame!?]