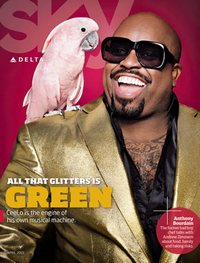 Singer/rapper/producer Cee Lo Green was interviewed for the cover feature in the April issue of Delta's Sky magazine and mentions Rush's Moving Pictures when discussing the current state of the music industry, art and product placement:
... "There's a difference between art and product," ... "Maybe I can help make art product again. You know what I'm saying? It once was. Is Rush's Moving Pictures not art? You feeling me? Where are those progressive bands anymore? Why isn't it allowed? It's almost a conspiracy, if you ask me." ...
Thanks to Eric at Power Windows for the heads up.