UPDATE - 5/2@1:34PM: Note that these stamps are already available for pre-order, but won't be released until July 19th.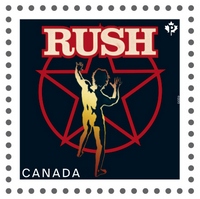 I'd mentioned this briefly in my Rock Hall induction open thread post last week, but it got buried in all of the other induction ceremony coverage. So I thought I'd give it another mention. Rush and a few other Canadian artists will be featured in a Canadian Recording Artist stamp series this coming July. From the press release:
Just in time for the celebration of Canadian music and musicians at the JUNO awards next week, Canada Post is proud to give Canadians a preview of this edition of the Canadian Recording Artist stamp series, to be released in July, featuring for the first time, Canadian bands. Beau Dommage, Rush, The Guess Who and The Tragically Hip will be spotlighted in this fourth issue in a series created to honour musical legends.

"This year's series features Canadian bands that have shaped the music industry in Canada," says Jim Phillips, Director of Stamp Services for Canada Post. "Each band has achieved national acclaim, along with international radio air-time and extensive tours." ...
Rush's stamp will feature the iconic Rush Starman. Along with Rush, Beau Dommage, The Guess Who and The Tragically Hip will also be honored with a stamp. The Canadian Recording Artists stamp series will be available from Canada Post retail outlets starting July 19 or online at canadapost.ca/shop.