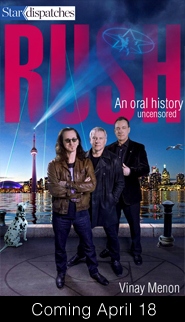 Over the weekend the Toronto Star published an excerpt from their upcoming e-dispatch story on Rush titled Rush: An Oral History, and portions of the excerpt are now available online. Toronto Star journalist Vinay Menon conducted separate and lengthy interviews with all 3 band members, their parents and wives, record execs, producers, management and more. Here's former Rush producer Terry Brown recalling a funny story:
"I remember one night we worked until about 4 or 5 in the morning. I crashed with my feet up on the console. They covered me in tambourines and percussion instruments very gently while I was sleeping at the desk. I woke up at about 6 and everything fell off and scared the hell out of me."
And Anthem/SRO's Pegi Cecconi shared this tidbit regarding the Jack Secret tapes:
"There are these infamous tapes, the Jack Secret tapes. Jack Secret is a guy named Tony Geranios, who's been their tech since the beginning of time. He used to do something called The Jack Secret Show. It was filmed at Le Studio in Montreal when they were doing these albums. In one of them, Alex is dressed up like Suzanne Somers but he had a moustache. Then they would pan over to Neil, who was playing an army sergeant. I only saw them once while house watching for Alex. I was on the floor but I knew I couldn't even admit to watching them."
The e-dispatch will be available for purchase on the date of the band's Rock Hall induction this coming Thursday, April 18th at this location.