UPDATE - 4/25@7:11AM: Note: the contest now also includes meet and greet passes along with the front row seats!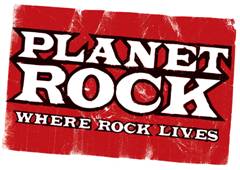 UK digital radio station Planet Rock is running a contest where you could win a pair of front row tickets to one of the 5 upcoming UK Rush tour dates. From the Planet Rock website:
Rush will be hitting the UK in May as part of their Clockwork Angels tour, and we are giving you the chance to get up close and personal by winning front row tickets! We have pairs of tickets to give away for all five gig dates which include a meet and greet with the band! ... All next week, our resident Rush expert, Darren Redick, will be playing you Rush songs on-air. What makes this different from every other week, is that each song will be given a special twist when it is played out around 5pm. Darren will be adding his own unique musical flavour to each song by playing guitar, bass, keyboards, or possibly even singing! ... When you hear the Darren Redick remix of the Rush song, just text 81400 starting with the word PLANET.* Darren will then call three people, who will go head to head in a rock quiz. Whoever is crowned winner will win a pair of front-row seats to see Rush! ...
You can get all the details and listen live to Planet Rock at the Planet Rock website.