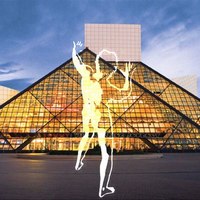 The barrage of coverage of Rush's Rock and Roll Hall of Fame induction this coming Thursday continues with a new Geddy Lee interview in today's Toronto Sun. Geddy is very gracious about receiving the award:
... "It's a really nice feeling," Lee says. "It's an honour. There's some terrific musicians in the Hall of Fame and, I suppose, as time goes on more great musicians will be inducted. And so it's kind of a nice pat on the back and we're quite happy to received it."...
Geddy also recently had lunch in Los Angeles with fellow inductee Nancy Wilson of Heart and had some nice things to say:
... "I wouldn't say I know [Heart] well but I feel like I know them well," ... "We did some gigs many years ago together in the northwestern U.S.A. of the midwest, I could be mistaken, and we always got along. And because they did so many gigs in Canada in their early days, we kind of felt like we were of the same vintage." ...
Geddy is keeping the songs they'll perform at the ceremony a secret but notes that it's probably pretty obvious what songs we'll play. Alex Lifeson mentioned playing Tom Sawyer, Spirit of Radio and maybe YYZ in an interview earlier this week. They'll be getting inducted by Foo Fighters' Dave Grohl and Taylor Hawkins who Rush chose from a range of potential candidates:
... "Dave and Taylor are people we respect a lot and we know them and it makes it more comfortable for us, so I feel fortunate that we have them to induct us. What you see is what you get with those guys and they love music and Taylor is a huge Rush fan and so for him he's just totally psyched to do this and it'll make it a much nicer evening because of that." ...
You can read the entire interview at this location. The induction ceremony will take place at the Nokia Theatre in Los Angeles this coming Thursday, April 18th with a truncated, 2-hour version being broadcast on HBO in the US and Canada on May 18th. The show is sold out but plenty of tickets are still available on a number of broker websites, and VIP ticket packages are also available (see rockhall.com for details).
Related Posts:
[Geddy Lee and Alex Lifeson talk Rock Hall induction in new interviews]
[Founding Rush drummer John Rutsey excluded from Rock Hall induction as a member of Rush]
[2013 Rock Hall inductees exhibit opens April 16th]
[Rock Hall induction ceremony update from RollingStone.com]
[Rush on their fellow 2013 Rock Hall inductees in new Rolling Stone article]
[Reduced-price $100 Orchestra and Loge level tickets for Rock Hall induction ceremony released by Ticketmaster]
[Yes' Chris Squire, Coheed and Cambria's Claudio Sanchez comment on Rush's Rock Hall induction in recent interviews]
[Foo Fighters to induct Rush into the Rock and Roll Hall of Fame; induction ceremony pre-sale details released]
[Rock and Roll Hall of Fame inductee announcement open thread]
[Rock and Roll Hall of Fame to announce 2013 inductees in a press conference next Tuesday, December 11th]
[Cleveland Plain Dealer profiles Rush superfan Peter Chakerian in wake of Rush's Rock Hall nomination]
[Rush Rock and Roll Hall of Fame nomination news updates]
[It's official! Rush FINALLY nominated for induction into the Rock and Roll Hall of Fame!!]
[Rush finally nominated for induction into the Rock and Roll Hall of Fame!?]