UPDATE - 4/15@9:50AM: Several folks have mentioned that the Toronto Star published an excerpt of an upcoming e-dispatch story on Rush over the weekend called Rush: An Oral History. None of the excerpts have been published online yet, but the dispatch will be available for purchase on April 18 at this location. The article contains new interviews with all 3 band members, their parents and wives, record execs, etc. Thanks to Habs2112 and Analog_Kid for the info.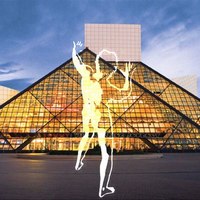 The press coverage of this week's upcoming Rock and Roll Hall of Fame induction ceremony where Rush will be inducted is starting to heat up. Two new interviews about the induction - one with Geddy Lee and another with Alex Lifeson - were released today. Geddy Lee spoke with Chuck Yarborough of the Cleveland Plain Dealer and had the following to say about the role Rush fans played in finally getting the band inducted:
... "I think the outcry or the outpouring of support of our fans was noted by the voting committee," ... "I don't think it was enough to turn the tide, but the noise and support from our fan base made the people on the committee take notice." ...
The article also has a couple of quotes from yours truly. You can read the whole thing online here. Alex Lifeson spoke with Graham Rockingham of the Hamilton Spectator and gives his take on the band's induction:
..."We were eligible for 15 years and it really didn't matter to us," Lifeson told The Spectator in a phone interview from his Toronto home. "We joked about it. In fact we kind of wore it as a badge of honour that there was a core inside the committee that did not want us in there. Some said, 'Over my dead body,' literally, 'before Rush gets in here.' Which is fine, they can do whatever they want. It's their museum. "So at the end of the day, it didn't really matter to us at all. It was kind of nice to have that controversy go away, to a point. But our fans were very insulted by it and burned by it. Now they feel vindicated by it. Certainly not all of them do. There's certainly a lot of Rush fans who think we should ignore it. "But the proper, courteous thing to do is to go and accept it graciously, try to make everybody happy, move on and never have to deal with it again." ...
He also hinted at what fans can expect at the induction ceremony this coming Thursday. The band will be inducted by Dave Grohl and Taylor Hawkins of The Foo Fighters:
... "[The Foo Fighters] are keen Rush fans and they understand where we come from," Lifeson says. "In a lot of ways the Foo Fighters are similar. They stick to their guns and do things in their own way. Certainly Dave (Grohl) has come up for the last 25 years with that same sense of integrity and work ethic. They are terrific guys, the perfect choice." Rush has been asked to perform some of the better known songs at the induction ceremony. "Tom Sawyer, Spirit of Radio and maybe YYZ," Lifeson says. "They've asked us to do classic, kind of iconic songs and those three are the ones." Will Grohl and Hawkins join Rush? Perhaps drumming with Peart? "There's always a chance," Lifeson says cryptically. "We're working on some things."
You can read the entire article/interview with Lifeson at this location. The induction ceremony will take place at the Nokia Theatre in Los Angeles this coming Thursday, April 18th with a truncated, 2-hour version being broadcast on HBO in the US and Canada on May 18th. The show is sold out but plenty of tickets are still available on a number of broker websites, and VIP ticket packages are also available (see rockhall.com for details).
Related Posts:
[Founding Rush drummer John Rutsey excluded from Rock Hall induction as a member of Rush]
[2013 Rock Hall inductees exhibit opens April 16th]
[Rock Hall induction ceremony update from RollingStone.com]
[Rush on their fellow 2013 Rock Hall inductees in new Rolling Stone article]
[Reduced-price $100 Orchestra and Loge level tickets for Rock Hall induction ceremony released by Ticketmaster]
[Yes' Chris Squire, Coheed and Cambria's Claudio Sanchez comment on Rush's Rock Hall induction in recent interviews]
[Foo Fighters to induct Rush into the Rock and Roll Hall of Fame; induction ceremony pre-sale details released]
[Rock and Roll Hall of Fame inductee announcement open thread]
[Rock and Roll Hall of Fame to announce 2013 inductees in a press conference next Tuesday, December 11th]
[Cleveland Plain Dealer profiles Rush superfan Peter Chakerian in wake of Rush's Rock Hall nomination]
[Rush Rock and Roll Hall of Fame nomination news updates]
[It's official! Rush FINALLY nominated for induction into the Rock and Roll Hall of Fame!!]
[Rush finally nominated for induction into the Rock and Roll Hall of Fame!?]