UPDATE - 4/16@8:41PM: FMQB now has a page up promoting the Headlong Flight single here. It has the single artwork along with this text:
Get ready to take the Headlong Flight!!!!
First single from Rush's new album Clockwork Angels
"Headlong Flight" available Thursday April 19
Then they have the 30-second snippet embedded on the page with Real Player, and also downloadable as an mp3 - just click on the download link.
----- snip -----
UPDATE - 4/12@12:18PM: Expanding on Jeremy Rosen's tweet from yesterday saying that Clockwork Angels will be available in lossless 96kHz/24-bit format, John at Cygnus-X1.net learned that these will be made available on HDTracks.com. Moving Pictures is already available there, and all the Sectors releases are also supposed to be available at some future date.
UPDATE - 4/12@9:46AM: Best Buy's listing for the album has the tracklist along with the running time for each track (thanks Will C):
1. Caravan(5:40)
2. BU2B(5:10)
3. Clockwork Angels(7:31)
4. The Anarchist(6:52)
5. Carnies(4:52)
6. Halo Effect(3:14)
7. Seven Cities Of Gold(6:32)
8. The Wreckers(5:01)
9. Headlong Flight(7:20)
10. BU2B2(1:28)
11. Wish Them Well(5:25)
12. The Garden(6:59)
Notice that the album version of BU2B is longer than the single version (4:21) so they either re-recorded it or at the very least re-edited it.
----- snip -----
UPDATE - 4/11@3:53PM: Here's a tweet from Jeremy Rosen - the Director of Digital Platforms & Emerging Tech for Roadrunner Records.
Yes, Rush's new album "Clockwork Angels" will be available in audiophile quality 96kHz/24-bit audio formats.
Good news. This probably means that the CD version will contain a 5.1 DVD as well - which makes sense given the price (currently $19.61 on Amazon).
----- snip -----
UPDATE - 4/11@1:45PM: Here's the group publicity photo that was included with the Marketwire press release for the album (thanks PhillyMike). Another masterpiece from the late Andrew MacNaughtan.
UPDATE - 4/11@1:18PM: Here's a Prog Magazine article on the release, which includes some interesting anecdotes about the album and its recording:
... Peart became fascinated with ancient traditions, which also had an impact on the album. "I learned about an entire set of runic hieroglyphs for elements and processes," says Peart. "As the lyrical 'chapters' came together, I chose one symbol to represent each of them." You can see these symbols in the clockface on the album cover, which has been painted by Hugh Syme. Geddy Lee and Alex Lifeson worked on the music in a basement studio, with Lifeson sometimes giving Peart two demos for specific tunes. One of these would feature a drum machine to outline certain rhythmic ideas, while the other had just a click track. And on one song, The Wreckers, Lee and Lifeson swapped over instruments during the writing sessions....
----- snip -----
UPDATE - 4/11@12:54PM: I thought the release of the 30-second Headlong Flight preview clip called for a new poll. So what do you think of the clip? Take the poll and let us know.
UPDATE - 4/11@12:38PM: Note that the special fanpack edition can be ordered from anywhere in the world, although shipping is higher outside of the UK. From the website:
Pre-order before 12:00pm (BST) on 8th May and you'll receive an additional special edition poster. The special edition artwork will incorporate the names of everyone who pre-orders the Fan Pack before this date. *

If you want to pre-order the fan pack but do not want your name to be included on the poster you must email contact@myfavouritemagazines.co.uk before 12pm on the 8th May to tell them that you do not want your name to be included in the Classic Rock Presents Rush: "Clockwork Angels" Fan Pack poster.

* If you order after this date you will receive the poster, but your name will not be included. Any posters bought as a gift will include the recipients name.
----- snip -----
UPDATE - 4/11@10:22AM: Rush.com has been updated with a new Clockwork Angels theme along with a news blurb about the album:
... The recording of "CLOCKWORK ANGELS" began in April 2010 with Grammy Award winning producer Nick Raskulinecz (Foo Fighters, Deftones) - who also collaborated with the band on their last studio album, 2007's "SNAKES & ARROWS." Rush co-produced both records. The first two songs, "Caravan" and "BU2B," were completed during that first session at Nashville's Blackbird studios and performed nightly during the wildly successful Time Machine Tour, which ran from June 2010 to June 2011. Work on "CLOCKWORK ANGELS" resumed in the fall of 2011 at Revolution Recording in Toronto after the tour's finale, with additional strings (arranged by David Campbell) recorded at Hollywood's Ocean Way Studios earlier this year. Lyrically, "CLOCKWORK ANGELS" chronicles a young man's quest across a lavish and colorful world of steampunk and alchemy as he attempts to follow his dreams. The story features lost cities, pirates, anarchists, an exotic carnival, and a rigid Watchmaker who imposes precision on every aspect of daily life. The novelization of "CLOCKWORK ANGELS" is being written by science fiction writer Kevin J. Anderson in collaboration with Rush drummer and lyricist Neil Peart. ...
Notice the part about how they mention that additional strings were recorded at Hollywood's Ocean Way Studios earlier this year. This tends to lend some weight to the rumor that they may be touring with an orchestra in some capacity. They also confirm the April 19th radio release with a tour announcement coming soon, and the album is also now available for pre-order.
----- snip -----
UPDATE - 4/11@10:17AM: According to this Classic Rock article, the album will only be available exclusively as a special fan pack in the UK on June 11th - with a general release on July 2nd.
On sale a full three weeks before the regular UK album release date, Classic Rock Presents Rush - Clockwork Angels (fanpack edition) features the new album in full plus a 132 page magazine that forms the 'ultimate sleevenotes' to the new record, with extensive and exclusive interviews with Neil Peart, Geddy Lee and Alex Lifeson.

Inside is everything you need to know about Clockwork Angels: full track-by-track rundown by the band, an interview with producer Nic Raskulinecz, long time cover artist Hugh Syme and more - all with exclusive unseen shots.

Other features include: Gene Simmons on Rush in the '70s, Rush's live rig and set-up, plus the band's full back catalogue reappraised by former producer Terry Brown, Manic Street Preacher and superfan Nicky Wire, Steven Wilson (Porcupine Tree) and more.
You can pre-order the fanpack edition in the UK at this link.
----- snip -----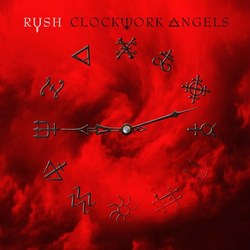 Wow! Looks like the rumors of some kind of special Headlong Flight preview occurring today was true. This preview is in the form of a short, 30-second, video trailer that was posted at Billboard.com earlier this morning. The Billboard article also contains the official Clockwork Angels cover art and track list, along with a new release date of June 12th. Here's the track list:
Clockwork Angels track list:

1. Caravan
2. BU2B
3. Clockwork Angels
4. The Anarchist
5. Carnies
6. Halo Effect
7. Seven Cities Of Gold
8. The Wreckers
9. Headlong Flight
10. BU2B2
11. Wish Them Well
12. The Garden
And here's the video trailer with a 30-second Headlong Flight preview!
Related Posts:
[Headlong Flight single from Clockwork Angels radio and digital release update]
[Possible cover artwork for Rush's Clockwork Angels album, tourbook revealed]
[Clockwork Angels update: listening party, first song title/single revealed as Headlong Flight]
[Clockwork Angels novelization by Kevin J. Anderson and Neil Peart now available for pre-order]
[First single from Clockwork Angels rumored to be released Friday, March 30th]
[Rush's Clockwork Angels to release on May 29th, now available for pre-order through Amazon]
[Rush's Clockwork Angels now listed at Amazon Japan with a release date of May 23rd]
[Clockwork Angels due out in May according to new Prog magazine Rush feature]
[Kevin J. Anderson's novelization of Rush's Clockwork Angels album due out this Fall from ECW Press]
[Author Kevin J. Anderson to write novelization of Rush's upcoming Clockwork Angels album]
[Rush Clockwork Angels, 2012 tour rumor update]
[Geddy Lee talks Moog Taurus pedals in new in-studio interview]
[Geddy Lee talks Clockwork Angels in new Classic Rock interview]
[Rush's Clockwork Angels album/tour most-anticipated of 2012]
[Rush wraps up Clockwork Angels recording]