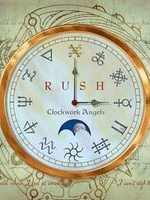 Last month we learned that sci-fi author Kevin J. Anderson would be writing a novelization of Rush's upcoming Clockwork Angels album which would be released in the Fall by ECW Press. The book is now available for pre-order through Amazon.com with a working release date of September 1st, 2012 and under the title Clockwork Angels: The Novel. The listing also indicates that Anderson and Peart will be credited as co-authors and the book will be 264 pages long. Anderson first announced the collaboration last month via Facebook and his blog:
... I worked together with Neil to flesh out the epic story told over the course of the music, as well as the artist Hugh Syme whose paintings fill the CD booklet. In a young man's quest to follow his dreams, he is caught between the grandiose forces of order and chaos. He travels across a lavish and colorful world of steampunk and alchemy, with lost cities, pirates, anarchists, exotic carnivals, and a rigid Watchmaker who imposes precision on every aspect of daily life. To whet your appetite, Rush released the first two tracks, "Caravan" and "BU2B"-listen to those songs to get an idea of the story's beginning.

I'm writing the chapters now, incorporating the lyrics into the narrative, and having a fantastic time. More details to come, but for now—to quote a line from Caravan: "I can't stop thinking big."
The Clockwork Angels album itself is due out from Roadrunner Records on May 29th. Thanks to tomsawyer912 for the heads up.
Related Posts:
[First single from Clockwork Angels rumored to be released Friday, March 30th]
[Rush's Clockwork Angels to release on May 29th, now available for pre-order through Amazon]
[Rush's Clockwork Angels now listed at Amazon Japan with a release date of May 23rd]
[Clockwork Angels due out in May according to new Prog magazine Rush feature]
[Kevin J. Anderson's novelization of Rush's Clockwork Angels album due out this Fall from ECW Press]
[Author Kevin J. Anderson to write novelization of Rush's upcoming Clockwork Angels album]
[Rush Clockwork Angels, 2012 tour rumor update]
[Geddy Lee talks Moog Taurus pedals in new in-studio interview]
[Geddy Lee talks Clockwork Angels in new Classic Rock interview]
[Rush's Clockwork Angels album/tour most-anticipated of 2012]
[Rush wraps up Clockwork Angels recording]