UPDATE - 3/19@11:12AM: Exclaim.ca backs up the May 29th release date in this article highlighting upcoming Canadian release dates (thanks Tim S).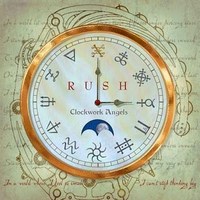 A few weeks ago a rumor came across my desk that Rush's record label Roadrunner Records would be hosting a Clockwork Angels listening party for industry executives, promoters and journalists at the end of this month. I was waiting for some independent confirmation before sharing the information and now Sniglets over at Counterparts has corroborated the rumor and added the following details:
Roadrunner Records is inviting 120 industry executives and promoters on Tuesday March 27th at 11 AM for a "Lunch and Listen" to the new Rush record. I saw an invite to this through a good friend of mine who is attending it and works for the NY Post. He also told me a single is going to be coming that following Friday so that puts us at the 30th for a new song. ...
It's not clear whether the single would be released for purchase at this time, or just released online for listening (via YouTube, SoundCloud, etc.). Last week Amazon began listing the album for pre-order with a release date of May 29th and Best Buy quickly followed suit. Since then Best Buy has completely removed their listing and Amazon's listing no longer has the release date or pre-order option. This likely just means that they were asked to remove the information, and that the release date remains May 29th. That's not to say that it won't get pushed back, as is usually the case with release dates. But I would think that we should see it released before the end of June at the latest. The other rumor that I'd first mentioned in my last Friday Rush updates post was that a 5.1 mix of the album will be made available.
Related Posts:
[Rush's Clockwork Angels to release on May 29th, now available for pre-order through Amazon]
[Rush's Clockwork Angels now listed at Amazon Japan with a release date of May 23rd]
[Clockwork Angels due out in May according to new Prog magazine Rush feature]
[Kevin J. Anderson's novelization of Rush's Clockwork Angels album due out this Fall from ECW Press]
[Author Kevin J. Anderson to write novelization of Rush's upcoming Clockwork Angels album]
[Rush Clockwork Angels, 2012 tour rumor update]
[Geddy Lee talks Moog Taurus pedals in new in-studio interview]
[Geddy Lee talks Clockwork Angels in new Classic Rock interview]
[Rush's Clockwork Angels album/tour most-anticipated of 2012]
[Rush wraps up Clockwork Angels recording]