UPDATE - 3/19@11:14AM: Exclaim.ca backs up the May 29th release date in this article highlighting upcoming Canadian release dates (thanks Tim S).
UPDATE - 3/9@10:23AM: It's also listed on Best Buy's site (thanks hermy) with the same release date.
UPDATE - 3/8@11:19PM: FYI: the Amazon listing no longer has the pre-order option available.
UPDATE - 3/8@1:01PM: For those of you wondering why the Amazon list price is $19.14, which is a little high for an audio CD. Rumor has it that a 5.1 mix will be included, which may account for the higher price, and which also might account for the delay in the release date (it was originally scheduled to release in late April).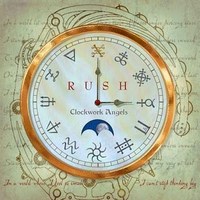 Last week we received our first hint as to the release date of Rush's long-anticipated Clockwork Angels album when Amazon Japan began listing it with a release date of May 23rd. That listing has since disappeared, but now Amazon in the US is listing the album with a release date of Tuesday, May 29th and have it available for pre-order! No other information is given other than that the album is being released via Roadrunner Records. Pre-order your copy here! Thanks to Tim S for the heads up.
Related Posts:
[Rush's Clockwork Angels now listed at Amazon Japan with a release date of May 23rd]
[Clockwork Angels due out in May according to new Prog magazine Rush feature]
[Kevin J. Anderson's novelization of Rush's Clockwork Angels album due out this Fall from ECW Press]
[Author Kevin J. Anderson to write novelization of Rush's upcoming Clockwork Angels album]
[Rush Clockwork Angels, 2012 tour rumor update]
[Geddy Lee talks Moog Taurus pedals in new in-studio interview]
[Geddy Lee talks Clockwork Angels in new Classic Rock interview]
[Rush's Clockwork Angels album/tour most-anticipated of 2012]
[Rush wraps up Clockwork Angels recording]
[Alex Lifeson talks Clockwork Angels in new Guitar World interview]
[Guitar World readers vote Rush's Clockwork Angels as the most anticipated album of 2012]
[New Billboard interview with Geddy Lee]
[Alex Lifeson Planet Rock interview now online]
[Rush Clockwork Angels feature in latest issue of Rolling Stone]
[Clockwork Angels update: writing completed, recording underway]
[Alex Lifeson Humble and Fred podcast interview now online]
[Geddy Lee talks Clockwork Angels, 2012 tour in new Rolling Stone interview]