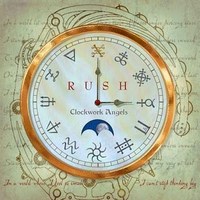 According to Darryl Sterdan of Canada's Sun Media, Rush's upcoming Clockwork Angels album and tour are among the most-anticipated of 2012. A couple of days ago he revealed his list of the 12 most-anticipated albums of 2012 and Rush was #8:
#8 - Rush, Clockwork Angels: Tick tock, dudes. Way back in the summer of 2010, the long-running Canadian power trio teased us with two tracks -- Caravan and BU2B -- from this 19th studio album. Word is they'll finally unveil the rest this June.
I'm guessing more like April/May since recording has already wrapped up, but we'll see soon enough. And Rush's upcoming tour in support of the album also made his top 12 most-anticipated tours of 2012:
#12 - Rush: Yes, their new album Clockwork Angels should be ready. But if the Toronto prog trio's 2011 Time Machine: Moving Pictures tour wasn't a precursor to a 2112 trek in 2012, then I'm high priest of the temple of Syrinx -- and these guys aren't nearly as sharp as I've always thought.
He might be right about them playing 2112 in its entirety. Geddy didn't rule out the possibility in this recent Billboard interview:
... We really enjoyed that whole experience. We played for three hours -- you can tuck a 45-minute album in there and still play lots of new things and lots of other things. If we were really out of our minds, we would attempt something like [1978's] "Hemispheres." If Rush has a cult following, within that cult following there's a following for "Hemispheres" [laughs]. I'm not sure we're up for that one, but I could see us doing "2112." ...
Thanks to RushFanForever for the heads up.
Related Posts:
[Rush wraps up Clockwork Angels recording]
[Alex Lifeson talks Clockwork Angels in new Guitar World interview]
[Guitar World readers vote Rush's Clockwork Angels as the most anticipated album of 2012]
[New Billboard interview with Geddy Lee]
[Alex Lifeson Planet Rock interview now online]
[Rush Clockwork Angels feature in latest issue of Rolling Stone]
[Clockwork Angels update: writing completed, recording underway]
[Alex Lifeson Humble and Fred podcast interview now online]
[Geddy Lee talks Clockwork Angels, 2012 tour in new Rolling Stone interview]
[Rush sound engineer Rich Chycki on Clockwork Angels recording, Sector box sets]
[Rush producer Nick Raskulinecz: Clockwork Angels in pre-production; start recording mid-October]
[Rush signs with Roadrunner Records]