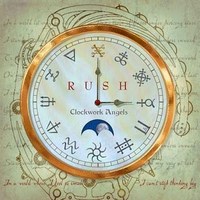 Last week we learned that sci-fi author Kevin J. Anderson would be writing a novelization of Rush's upcoming Clockwork Angels album. Anderson posted the news to his Facebook page last Thursday:
... I worked together with Neil to flesh out the epic story told over the course of the music, as well as the artist Hugh Syme whose paintings fill the CD booklet. In a young man's quest to follow his dreams, he is caught between the grandiose forces of order and chaos. He travels across a lavish and colorful world of steampunk and alchemy, with lost cities, pirates, anarchists, exotic carnivals, and a rigid Watchmaker who imposes precision on every aspect of daily life. To whet your appetite, Rush released the first two tracks, "Caravan" and "BU2B"-listen to those songs to get an idea of the story's beginning.

I'm writing the chapters now, incorporating the lyrics into the narrative, and having a fantastic time. More details to come, but for now—to quote a line from Caravan: "I can't stop thinking big."
We now also have some more details regarding the book's release. Neil Peart's current publisher ECW Press will be releasing the book sometime this coming Fall as revealed by this tweet from yesterday (thanks Rush92):
Exciting news: This fall, we'll be publishing a collaboration between Neil Peart of Rush and @thekja! http://bit.ly/yBat18
So it looks like the book will be released long after the album's release this Spring, and should more closely coincide with the band's tour this Fall. Anderson is a huge Rush fan and has drawn inspiration from Rush for a number of his writings. His 1988 Rush-inspired novel Ressurection, Inc. drew the attention of Neil Peart and the 2 have been friends ever since, even collaborating on the 1994 short story Drumbeats. Neil also wrote the introduction to Anderson's 2006 short story compilation Landscapes. So what's your opinion of the novelization idea? Take the poll and let us know.
Related Posts:
[Author Kevin J. Anderson to write novelization of Rush's upcoming Clockwork Angels album]
[Rush Clockwork Angels, 2012 tour rumor update]
[Geddy Lee talks Moog Taurus pedals in new in-studio interview]
[Geddy Lee talks Clockwork Angels in new Classic Rock interview]
[Rush's Clockwork Angels album/tour most-anticipated of 2012]
[Rush wraps up Clockwork Angels recording]
[Alex Lifeson talks Clockwork Angels in new Guitar World interview]
[Guitar World readers vote Rush's Clockwork Angels as the most anticipated album of 2012]
[New Billboard interview with Geddy Lee]
[Alex Lifeson Planet Rock interview now online]
[Rush Clockwork Angels feature in latest issue of Rolling Stone]
[Clockwork Angels update: writing completed, recording underway]
[Alex Lifeson Humble and Fred podcast interview now online]
[Geddy Lee talks Clockwork Angels, 2012 tour in new Rolling Stone interview]