UPDATE - 4/5@7:59PM: Almost forgot! DJ_Carter also learned that the official tour announcement should be coming the same day as the radio release on April 19th.
UPDATE - 4/5@1:38PM: Here are some of DJ_Carter's comments regarding the radio-edit of Headlong Flight that he listened to:
... The opening chords sound almost EXACTLY like a heavier version of Bastille Day. ... There's some Bastille Day rhythms, a more raw guitar tone that sounds less polished and more Hemispheres-y, an absolutely bone-shattering drum break in the middle that sounds like a modern version of Neil's break in By-Tor, and some really audible and fun shifts in the structure of the song, a la the transitions in Natural Science. If I had to encapsulate the sound in just a few words, it would be Caress of Steel crossed with Vapor Trails. Headlong Flight doesn't feel as heavy as BU2B; it's very much Vapor Trails-y, but with much more tasty bass. Truly, the bass in this song is killer. I think we can count on seeing a lot more of the Leave That Thing Alone live solo stuff on this record. ... One thing that was really encouraging about this track was the fact that Neil's drumming was very fast in certain places. BU2B was ... heavy but plodding, not challenging or rhythmically complex. Headlong Flight is totally different. This is Neil at his best, and the break I mentioned earlier feels like his classic fills. There is indeed a guitar solo, towards the end of the track. But it's a solo in the sense that Alex's solo from Caravan was a solo. He's shredding, no doubt about it, but it isn't like a Freewill type of shredding that has a pattern and a resolution. Very frenetic and exciting, though! ...
----- snip -----
UPDATE - 4/5@8:00AM: I have a few more details regarding the track lengths of the various edits from reader DJ_Carter. He let me know that the album version of Headlong Flight runs in at 7:20. The original length of the radio-edit of the track was 5:20, but once it was confirmed that it would be the first single they produced another, shorter version that clocked in at 4:50. He was played both of these cuts (the 5:20 and 4:50 versions) but couldn't tell any significant difference.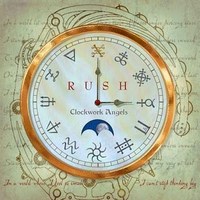 We learned last week that Headlong Flight is the title of the first single that will be released from Rush's upcoming Clockwork Angels album. Roadrunner began shopping the single out to various folks in the radio industry last Wednesday setting the Twittersphere abuzz with reactions - all very positive. The track is about 7.5 minutes long and has been described as epic by those who have heard it along with some comparisons to By-tor and the Snow Dog and mid-70s Rush. You can read all the reactions in this post. I'd initially heard that the single will be released to radio on April 19th but now have some more details. Apparently there will be a very limited (probably just a one-off spin) preview release on select stations next Wednesday, April 11th. Then the track will be released on a limited number of stations April 19-20th. The general radio release along with a digital release on iTunes and other formats will occur on Tuesday, April 24th. More information as I learn it.
Related Posts:
[Possible cover artwork for Rush's Clockwork Angels album, tourbook revealed]
[Clockwork Angels update: listening party, first song title/single revealed as Headlong Flight]
[Clockwork Angels novelization by Kevin J. Anderson and Neil Peart now available for pre-order]
[First single from Clockwork Angels rumored to be released Friday, March 30th]
[Rush's Clockwork Angels to release on May 29th, now available for pre-order through Amazon]
[Rush's Clockwork Angels now listed at Amazon Japan with a release date of May 23rd]
[Clockwork Angels due out in May according to new Prog magazine Rush feature]
[Kevin J. Anderson's novelization of Rush's Clockwork Angels album due out this Fall from ECW Press]
[Author Kevin J. Anderson to write novelization of Rush's upcoming Clockwork Angels album]
[Rush Clockwork Angels, 2012 tour rumor update]
[Geddy Lee talks Moog Taurus pedals in new in-studio interview]
[Geddy Lee talks Clockwork Angels in new Classic Rock interview]
[Rush's Clockwork Angels album/tour most-anticipated of 2012]
[Rush wraps up Clockwork Angels recording]