UPDATE - 4/11@5:52PM: In today's official Clockwork Angels announcement at Rush.com, they mention that additional strings were recorded at Hollywood's Ocean Way Studios earlier this year. This tends to lend some weight to the rumor that they may be touring with an orchestra in some capacity. They also confirm the April 19th radio release and say the following regarding the tour:
... Details of a full-scale North American tour to support the new album will be announced shortly.
----- snip -----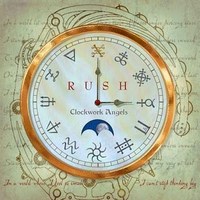 Last week we learned that the Headlong Flight single from Rush's upcoming Clockwork Angels album will be released digitally on Tuesday, April 24th, along with a radio release beginning Thursday, April 19th. There are also rumors of some kind of limited pre-release preview to occur tomorrow, April 11th, but details regarding this are still sketchy at the moment. I've also heard that we'll be getting an official tour announcement to coincide with the April 19th radio release. On that note, the latest rumor regarding the tour is that the band has moved all of their outdoor late summer and early fall tour dates from outdoor venues to indoor venues. I've been reporting for some time now that Rush would be playing a September 13th date at the Klipsch Music Center in Noblesville, IN, but that no longer seems to be the case. Reader Doug F has season tickets at the venue and was recently informed by their sales staff that Rush would instead be playing at Bankers Life Fieldhouse due to them moving all of their outdoor shows to indoor venues. The rumored reasoning behind this decision is that they will be playing with a symphony!? I had also been hearing of a September 9th date in Bristow, VA at Jiffy Lube which I presume has also been moved. There was also a planned date at the Consol Energy Center in Pittsburgh, PA on September 11th which presumably would still be in place. And I just recently received information that they'd be playing at the United Center in Chicago on September 15th. The move from outdoor to indoor seems reasonable and makes sense since no summer dates are planned, so the big question mark here is the rumor regarding Rush playing with a symphony. Whereas this sounds fairly far-fetched on the surface, both Geddy Lee and Neil Peart have expressed interest in doing exactly this in recent interviews. In a June, 2010 interview with Jeff Woods Geddy had the following to say:
.. I'd like to do a series of concerts with an orchestra. I think that would be a really good experience for our band, and I think our music is made for it. That's something we keep talking about and then gets pushed aside. I think sooner than later I'd like to make that happen...
Neil Peart had also mentioned performing with an orchestra in a November, 2009 NeilPeart.net news update. If anyone has any further insight/info regarding the symphony rumor, please let us know.
Related Posts:
[Rush 2012 Clockwork Angels tour update: official announcement coming April 19th?]
[Possible cover artwork for Rush's Clockwork Angels album, tourbook revealed]
[Rush 2012 tour update: Neil Peart confirms Fall tour]
[Rush Clockwork Angels, 2012 tour rumor update]
[Rush's Clockwork Angels album/tour most-anticipated of 2012]