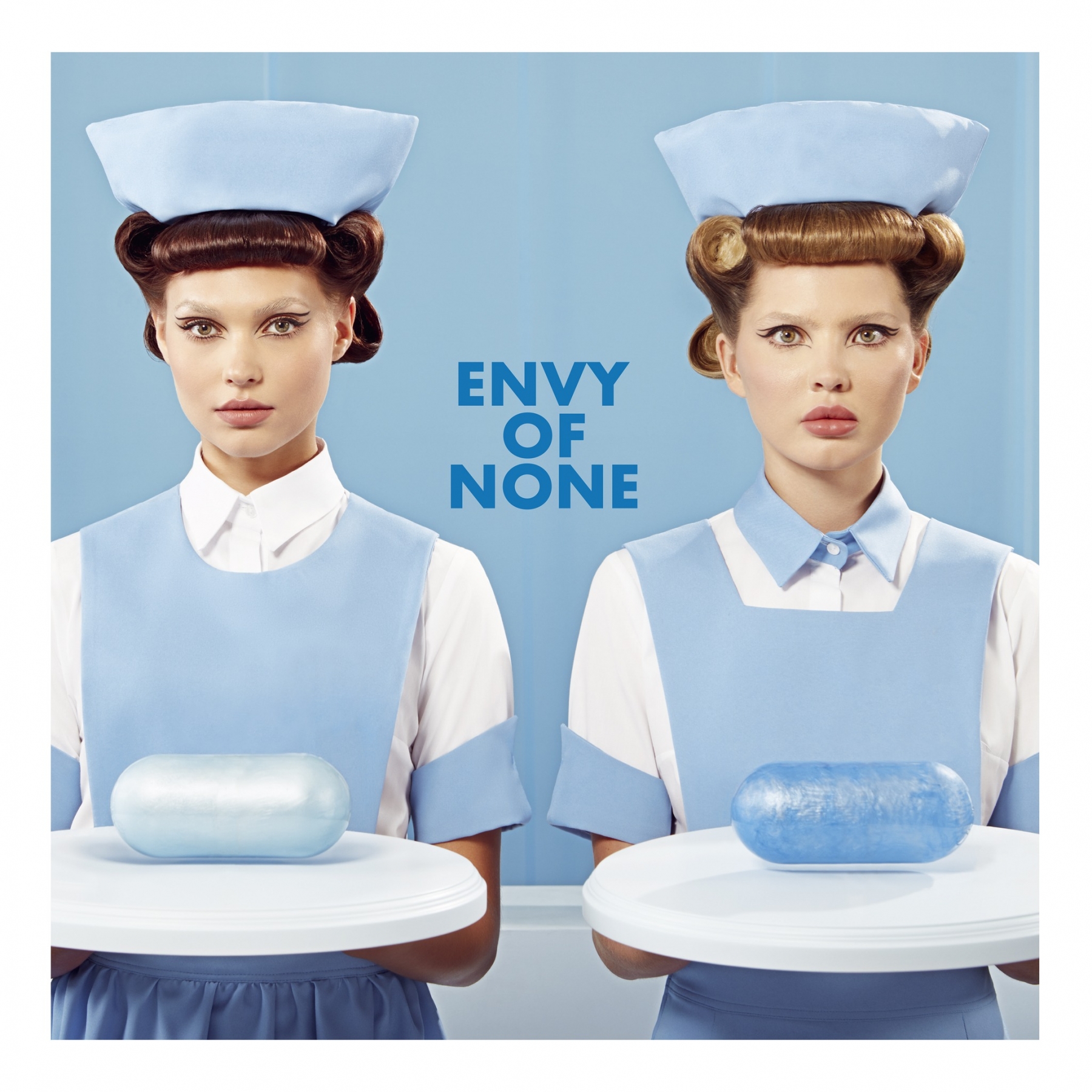 Rush's Alex Lifeson and vocalist Maiah Wynne were recently interviewed for Ultimate Classic Rock to talk about their new Envy of None project. The pair talk extensively about the project and the specific songs on the album, their working relationship and what the future may hold. After collaborating musically for the last few years remotely, they still haven't gotten a chance to play the songs together as a group, as Alex explains here:
... A few weeks ago, Maiah came up. We wanted to do a few promotional things. We wanted to do some interview stuff and shoot a video - but more than anything, we just wanted to get together and listen to the record together in the room. We had a very small get-together with basically family and a couple of friends at a studio, a nice funky little studio in Toronto. We played it back nice and loud, and listened to it all together and just got so vibed up. After two years of these restrictions and modifications in our lifestyle with COVID, it was nice to be in a room together and be able to talk without having a mask on and all of that stuff. So there was that. After Zooming and emailing each other for so many years, it was nice to be able to speak to each other in person, and listen to what we created and watch each other's reaction and feel it in the room. You know, I've done that a lot of times, but this was really, really special. I felt enormous pride in what we'd accomplished and I felt a real shared sense of unity in the project. We're not really a band. We're four songwriters who got together to create some music, but there was a sense of togetherness at a band level in the room. I think it was important that we came together and achieved that. ...
Wynne also comments on whether the group have continued working on music together:
... Yeah, I mean, we just finished the bonus tracks, not that long ago. [Laughs.] We put them in there at the last second. Andy's already talked about other ideas that he has. I've got some ideas, as well. We have this amazing outlet now, and when we have an idea that feels like it would be a good fit, I'm sure we'll just keep sending stuff to each other and working on music and making weird things. ...
You can read the entire interview online here. Envy of None will be releasing their self-titled debut album next month, and have already released 2 singles from the album - Liar and Look Inside. You can stream both songs via all the major streaming platforms here, and watch the official music video for Look Inside on YouTube at this location. Envy of None consists of Lifeson, Andy Curran, guitarist Alfio Annibalini and vocalist Maiah Wynne. The band's self-titled 11-track debut album will arrive on April 8th from KScope Music on black, white and blue vinyl (the latter is exclusive to North America) and also on CD. A limited-edition deluxe version of the release will feature a five-track bonus CD and a 28-page booklet with exclusive content. You check out all the available purchase options here, and follow the Project via their website, on Facebook, Twitter and Instagram for all the latest news.
Related Posts:
[Alex Lifeson and Maiah Wynne talk Envy of None in new Music Radar interview]
[Alex Lifeson talks Envy of None touring plans, future projects and more in new Ultimate-Guitar.com interview]
[Watch the official music video for Look Inside - the latest single from Alex Lifeson's Envy of None project]
[Listen to Look Inside, the next single from Alex Lifeson's Envy of None project]
[Enter Envy of None's contest to win an Alex Lifeson Signature Les Paul Axcess Standard guitar]
[Alex Lifeson and Maiah Wynne talk Envy of None in new PROG magazine interview]
[Listen to Liar, the first single from Alex Lifeson's Envy of None project]
[Alex Lifeson's Envy of None project with Andy Curran and Maiah Wynne to release January 12th]
[Check out in-studio photos of Alex Lifeson's Envy of None project with Andy Curran, Maiah Wynne]
[Alex Lifeson talks Envy of None, Moving Pictures reissue, and more in new Spin magazine interview]
[Alex Lifeson on his Epiphone signature guitar, Envy of None project, and more in new Andertons Music Co. interview]
[Alex Lifeson and Andy Curran Monaco Streaming Film Festival interview]
[Alex Lifeson says Envy of None album release likely coming this fall in new Grateful Web interview]
[Alex Lifeson on whether he'd consider touring with his Envy of None project in new Sirius XM interview]
[Alex Lifeson on making music with Geddy Lee, Envy of None, and others in new Ultimate Classic Rock interview]
[Alex Lifeson to appear on Sirius XM Volume's Trunk Nation with Eddie Trunk Wednesday]
[Alex Lifeson's entire Gearfest interview now online]
[Alex Lifeson has recorded 10 new songs for Envy of None project with Andy Curran, Maiah Wynne]
[Listen to 2 NEW tracks from Alex Lifeson via new AlexLifeson.com website to coincide with release of new signature guitar]