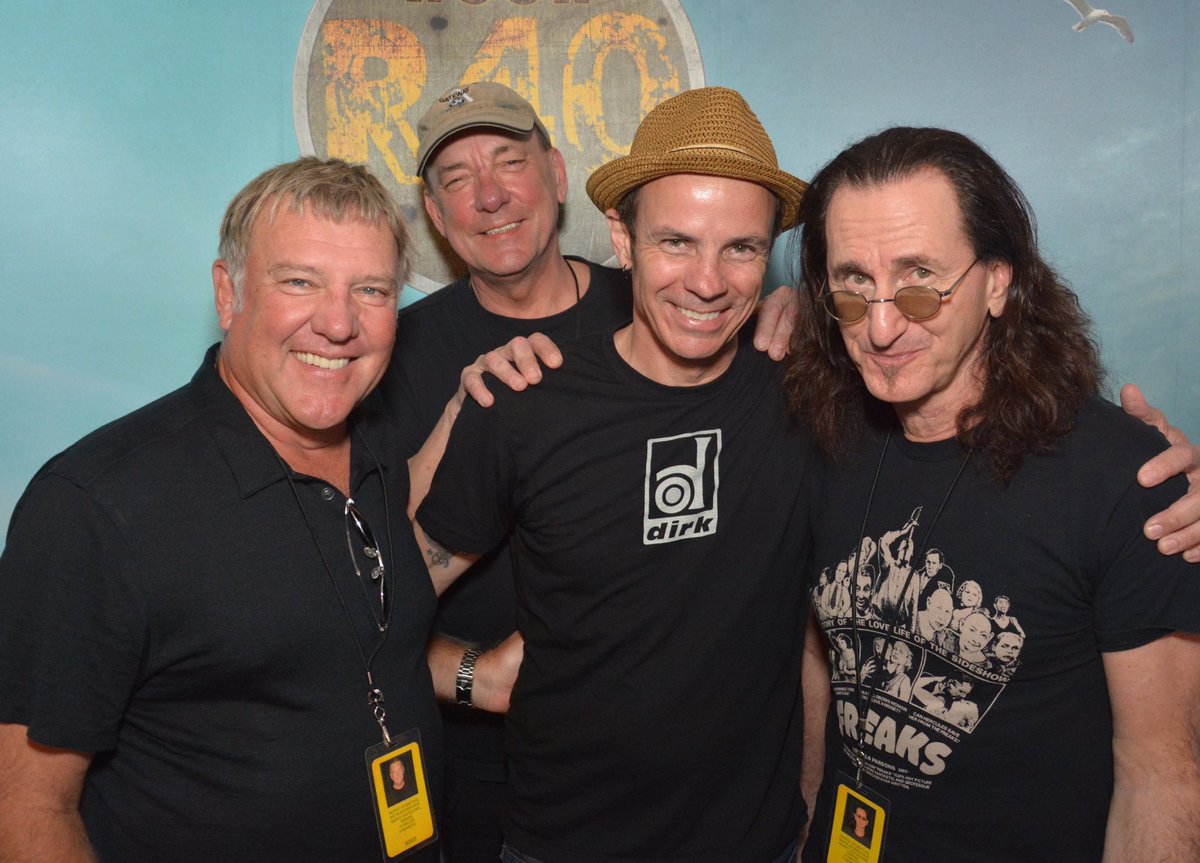 Last week Rush's Alex Lifeson surprised fans by releasing two NEW instrumental tracks via his newly-minted official website at AlexLifeson.com, coinciding with the release of his new signature Epiphone Les Paul Standard Axcess guitar. The 2 new tracks are titled Kabul Blues and Spy House, and both are available for listening online via his website here. Andy Curran plays bass guitar on both tracks and David Quinton Steinberg was recruited for the drums on Spy House, but otherwise it's all Lerxst. It turns out these 2 tracks are the first glimpses of a new Alex Lifeson side project collaboration with Curran, guitarist Alfio Annibalini and vocalist Maiah Wynne called Envy of None. Ultimate Classic Rock reported earlier this afternoon that the project has recorded a total of 10 songs and are hoping to release an album by late summer or early fall. Andy Curran told UCR that Wynne was the "diamond in the rough" who helped to spawn the new project:
... "Those two [instrumentals], 'Kabul Blues' and 'Spyhouse,' at this moment Maiah is singing over them, so they're [also] going to be part of the Envy of None project," ... Curran cautions that Envy of None is very different from the sound that Lifeson was known for in Rush. He described the songs he was sending to Lifeson as "trippy and dark" with "pop elements" mixed in. The guitarist quickly gravitated to what he heard. "I think there's a lot of Alex Lifeson in these. There's some beautiful guitar that he's played all over it - but full transparency, it's not Rush and it's not Coney Hatch [Curran's former band]," Curran says. "It's like, if you can picture maybe Massive Attack with a little bit of some electronic stuff with Nine Inch Nails influences, with this beautiful, fragile, sweet voice and some very, very dark heavy sounds. That's kind of what this project sounds like." Similar to his previous solo work outside of Rush on 1996's Victor, Lifeson was keen to really explore and push the limits. "He's gone out of his way to process and put cool things on his guitar that you're like, 'Wait a second, that doesn't sound like a guitar,'" Curran says. "I would say to him, 'What did you do there? This sounds like a violin' or 'This sounds like a keyboard!' He was like, 'Well, I put this, this and this on it and I flipped it backwards.' "He's having a real fun time manipulating those guitar sounds," Curran adds. "We spoke about heavy, heavy guitars and he said, 'There's only really two songs, Andy, that I feel need that crunch and oomph. I think he went out of his way to really scratch an itch that he hasn't played that way in Rush." ...I know Alex and I are both really proud of these songs and we want to share them with people." "We'll get it out one way or another," he assures. "People are going to hear this music."
Alex Lifeson has collaborated with Wynne on a couple of past projects. Back in 2019 she released a single called Fearless Girl, which featured Lifeson and the Portland Cello Project. Wynne also sang vocals on a May, 2019 collaboration between multi-instrumentalist Marco Minnemann and Lifeson titled Lover's Calling which Alex spoke about in his recent Make Weird Music interview. Lifeson will be making a virtual appearance at Sweetwater Music's 20th annual Gearfest this weekend and will be sure to discuss the new project. He's scheduled to appear tomorrow at 6:05PM EST and fans can watch the free livestream online at Sweetwater.com/GearFest.