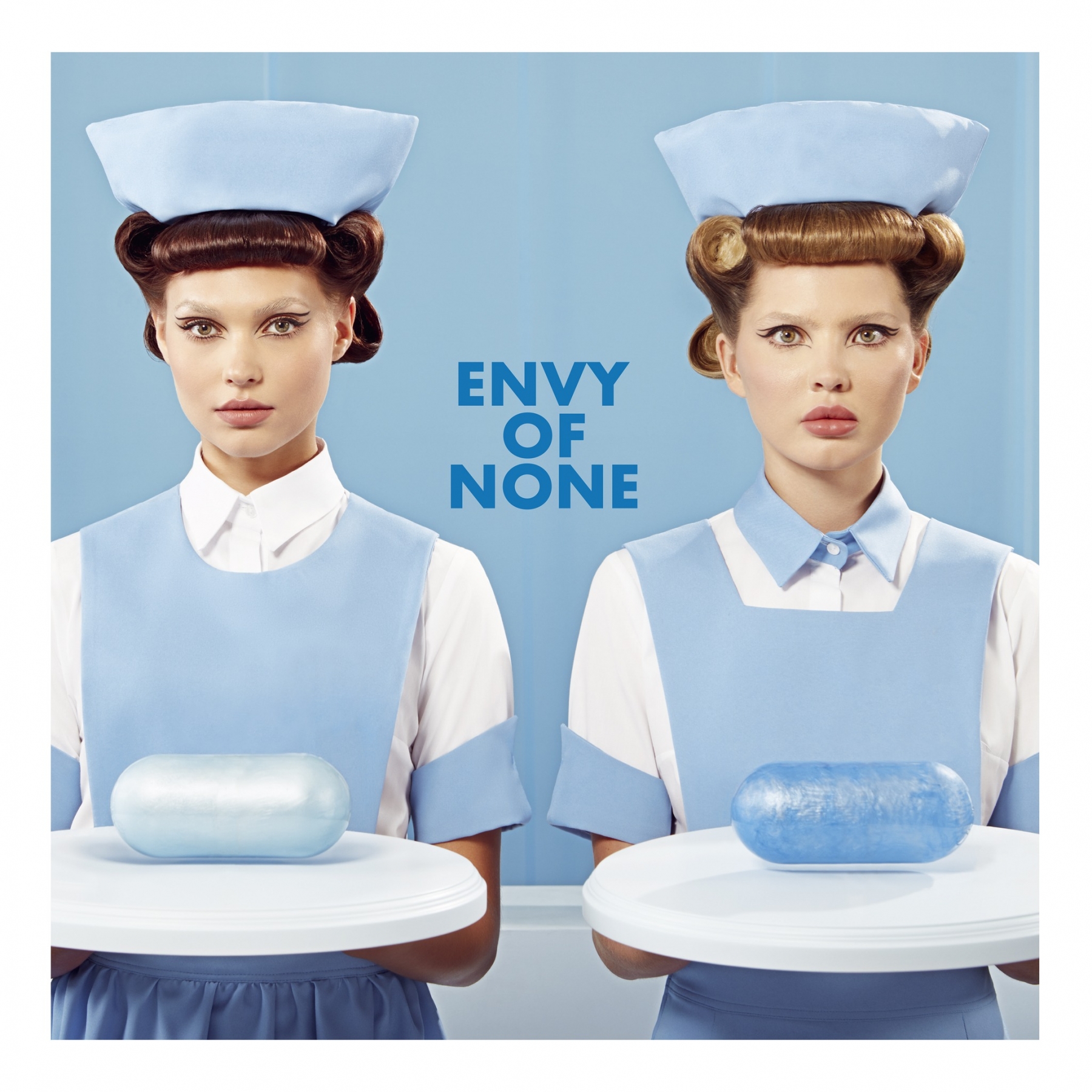 Alex Lifeson recently sat down with Ultimate-Guitar.com's Justin Beckner for a new interview where he talks about his new Envy of None project, his future plans and more. Here's what he had to say when asked about whether Envy of None plans on doing some live shows:
... if [the album]'s received really well, and there's a demand for it, then what I would like to do, is maybe do a few shows where I would be involved. I think Andy kind of feels the same way, [we would] put a band together for Maiah to take on the road and do a small theater tour. Because I think this material, with a great light show, and that really evocative kind of presentation would be really great. I would like to sit in the audience and watch that. I think because of the way we recorded the material, it would require some extra players to really do it right. Between the three of us, we can definitely put a great band together. And Maiah certainly, in our view, Maiah is the face of Envy of None. There's something about her voice that's just really unique and really special. The way that the music was created, the way her vocals sit on top of the song, they sit on top of this rhythmic mess below. It's just a really unique contrasting combination. So, you know, Andy and I, we've toured for decades, so we don't need to really go on the road and the bus and do all that stuff. In fact, we are not really interested in it. But you know, Maiah is young, and she's got a drive, and I think it would be great to do it in that way. ...
Alex was also asked about his future plans beyond Envy of None:
... I have a few things that I need to get done. If I ever stop doing these interviews...ha! I promised to do another thing with Marco Minnemann. He sent me a couple of song ideas and said, he'd like to get some guitar work on them. I have a few other friends submitting things for me to put guitar tracks on. I love doing stuff like that. I'm not fussy or stuck up or anything, it doesn't matter if it's a nothing sort of project. I know it's important to my buddy and if I can put a guitar on it when I've got a bunch of them here, and this is what I do, this is a great thing for me. After basically seven years of coming off what Rush was, and not, you know, playing golf, and not really doing what I've been doing since I was 12 years old. Coming into this project, and really devoting my time and energy to it, it was a rebirth for me, and now my horizon is sparkling again. Getting rid of the guitars - I feel like we're getting leaner in our lifestyle, and it just feels like this movement forward. I'll do these little things; we have talked about Envy of None II. Let's get Envy of None I out first, of course, but we've talked about continuing to work together and we're excited about the prospect. I know Maiah would like to get her own solo record out and she's asked me to play on that as well. I already have played on some of her other personal stuff. So there are a lot of opportunities and I just take them as they come. ...
You can read the entire interview online here. Envy of None will be releasing their self-titled debut album next month, and have already released 2 singles from the album - Liar and Look Inside. You can stream both songs via all the major streaming platforms here, and watch the official music video for Look Inside on YouTube at this location. Envy of None consists of Lifeson, Andy Curran, guitarist Alfio Annibalini and vocalist Maiah Wynne. The band's self-titled 11-track debut album will arrive on April 8th from KScope Music on black, white and blue vinyl (the latter is exclusive to North America) and also on CD. A limited-edition deluxe version of the release will feature a five-track bonus CD and a 28-page booklet with exclusive content. You check out all the available purchase options here, and follow the Project via their website, on Facebook, Twitter and Instagram for all the latest news.
Related Posts:
[Watch the official music video for Look Inside - the latest single from Alex Lifeson's Envy of None project]
[Listen to Look Inside, the next single from Alex Lifeson's Envy of None project]
[Enter Envy of None's contest to win an Alex Lifeson Signature Les Paul Axcess Standard guitar]
[Alex Lifeson and Maiah Wynne talk Envy of None in new PROG magazine interview]
[Listen to Liar, the first single from Alex Lifeson's Envy of None project]
[Alex Lifeson's Envy of None project with Andy Curran and Maiah Wynne to release January 12th]
[Check out in-studio photos of Alex Lifeson's Envy of None project with Andy Curran, Maiah Wynne]
[Alex Lifeson talks Envy of None, Moving Pictures reissue, and more in new Spin magazine interview]
[Alex Lifeson on his Epiphone signature guitar, Envy of None project, and more in new Andertons Music Co. interview]
[Alex Lifeson and Andy Curran Monaco Streaming Film Festival interview]
[Alex Lifeson says Envy of None album release likely coming this fall in new Grateful Web interview]
[Alex Lifeson on whether he'd consider touring with his Envy of None project in new Sirius XM interview]
[Alex Lifeson on making music with Geddy Lee, Envy of None, and others in new Ultimate Classic Rock interview]
[Alex Lifeson to appear on Sirius XM Volume's Trunk Nation with Eddie Trunk Wednesday]
[Alex Lifeson's entire Gearfest interview now online]
[Alex Lifeson has recorded 10 new songs for Envy of None project with Andy Curran, Maiah Wynne]
[Listen to 2 NEW tracks from Alex Lifeson via new AlexLifeson.com website to coincide with release of new signature guitar]