UPDATE - 7/4@11:21AM: Lifeson reiterates his stance on touring with Envy of None in his recent UCR interview:
... "I havenít really considered [playing live], ... Itís been almost six years [since the last tour]. After touring at that level [for decades], not to mention the six years before that of spending weeks in small bars and small towns, Iím not in a big hurry to go back on the road." ... If ďsomething majorĒ happens with his new collaborators in Envy of None and there is a chance to do ďa handful of specific shows,Ē Lifeson would consider that. But the idea of lengthy touring, either with Rush frontman Geddy Lee or Envy of None, is a different story. ďI donít think thatís something thatís in my cards, really,Ē ...
----- snip -----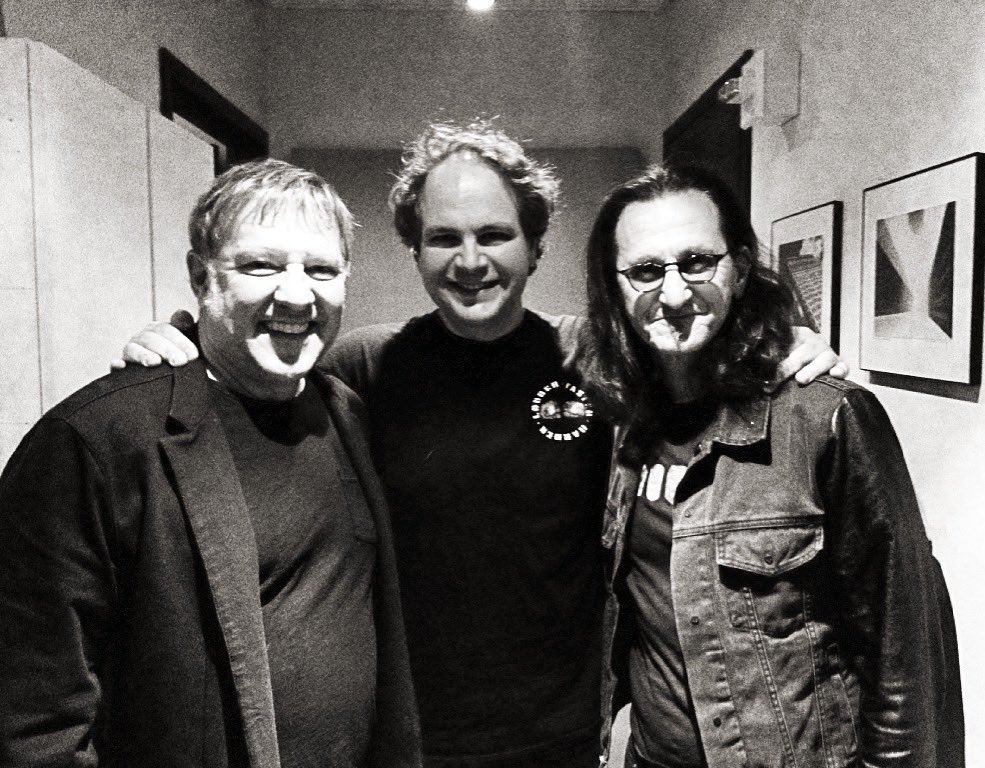 This past Wednesday Alex Lifeson was a guest on Eddie Trunk's Trunk Nation radio show on Sirius XM Volume. Alex chatted with Eddie for close to 45 minutes about his many musical side projects, including his new Envy of None project with Andy Curran and Maiah Wynne. At one point Eddie asked him if would ever consider taking the project out on the road. Alex was noncommittal, but seemed open to the possibility depending on how things play out:
... To be honest with you, I don't think so. We've talked a little bit about it. But we don't want to get to far ahead of what we really need to do, and that is concentrate on finishing the record and getting it out. Maiah is a lot younger than any of us are - she's in her early-mid 20s - and she would love to take this out on the road and do a proper tour. And it all depends on how it goes. If there's a good response then maybe we'll look at it. I would probably at least consider a handful of shows. I'm not saying that we are [considering that], but at that time I would think about it anyways. If it was limited to something like that. But frankly after 40 years of touring, and half a dozen years before that playing bars and living in crappy hotel rooms, and small hotel bars and all of that, I don't have that much of a desire to be staying in a hotel room staring at the TV for 22 hours of the day for the 2 hours of excitement. I don't really miss the live experience. I've done it a few times since in smaller venues, smaller projects - mostly charity stuff. And it's fun when it's for a couple hundred people and I don't mind. But to do the whole big production - I'm not so sure ... I'm very lazy by nature. I don't know if I'd want to dive into that again. ...
Alex also put put to rest any notion that Rush would ever continue without Neil Peart:
...There's no way Rush will ever exist again, because Neil's not here to be a part of it. That's not to say that we can't do other things, and we can't do things that benefit our communities and all of that. I have lots of plans for that sort of thing that don't necessarily include Geddy ...
Sirius XM subscribers can listen to the entire interview on demand or via the Sirius XM app. Sirius also posted a short excerpt from the interview to Twitter where Alex talks about his relationship with Geddy.
Missed yesterday's #TrunkNation where @EddieTrunk talked to @rushtheband's #AlexLifeson about his new music, if he'd tour again, his relationship w/#GeddyLee and more? Well you can catch the whole interview anytime on the @SIRIUSXM app & tune in to an all new episode today @ 2pET pic.twitter.com/kmGCJOI7kH

- SiriusXM VOLUME (@siriusxmvolume) July 1, 2021
Related Posts:
[Alex Lifeson on making music with Geddy Lee, Envy of None, and others in new Ultimate Classic Rock interview]
[Alex Lifeson records new song with Tom Morello and Kirk Hammett]
[Alex Lifeson to appear on Sirius XM Volume's Trunk Nation with Eddie Trunk Wednesday]
[Alex Lifeson's entire Gearfest interview now online]
[Alex Lifeson has recorded 10 new songs for Envy of None project with Andy Curran, Maiah Wynne]
[Loucin Guitars to restore Alex Lifeson's first electric guitar]
[Alex Lifeson to appear at Sweetwater Music's 20th annual Gearfest]
[Listen to 2 NEW tracks from Alex Lifeson via new AlexLifeson.com website to coincide with release of new signature guitar]