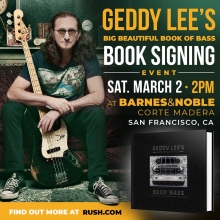 Rush and Geddy Lee have just announced another book signing event for Geddy's Big Beautiful Book of Bass. Geddy will be signing copies of his new book at Barnes & Noble in Corte Madera, CA (outside San Francisco) on Saturday, March 2nd at 2PM PST. You can get all the details and purchase your tickets for the event here:
Join Barnes & Noble - Corte Madera on March 2, 2019 at 2 PM as they host Rush frontman Geddy Lee for a signing of GEDDY LEE'S BIG BEAUTIFUL BOOK OF BASS, the definitive volume on Geddy Lee's personal collection of vintage electric bass guitars, dating from the 1950s to the 1980s.

One ticket grants you admission and one copy of GEDDY LEE'S BIG BEAUTIFUL BOOK OF BASS for Geddy to personalize. You may purchase up to two tickets. This is a signing only; photographs are only allowed from the signing line. Geddy will not sign memorabilia - only the book.
This will be the fifth book signing event Geddy has put on since releasing his book. He's done signings at Book Soup in West Hollywood, IndigoSpirit in Toronto, Bookend Books in New Jersey, and at the Rock Hall in Cleveland.
Related Posts:
[Geddy Lee book signing at Book Soup in West Hollywood January 30th; tickets available NOW]
[Rush Fan Day at the Rock and Roll Hall of Fame in Cleveland: open thread and live updates]
[Geddy Lee on his Big Beautiful Book of Bass in new interview for Q104.3's Out of the Box]
[Rush Day at the Rock Hall in Cleveland January 19th including a Geddy Lee book signing and interview event featuring Alex Lifeson]
[Geddy Lee on his upcoming Big Beautiful Book of Bass and the future of Rush in new Billboard interview]
[Geddy Lee on his upcoming Big Beautiful Book of Bass in new Rolling Stone interview]
[Geddy Lee on his upcoming book and the 10 bassists who blew his mind in new Music Radar interview]
[Geddy Lee book signing at IndigoSpirit in Toronto December 17th, tickets on sale TOMORROW morning at 10AM]
[Hemispheres cover feature including an interview with Geddy Lee in latest issue of Prog magazine]
[Geddy Lee's Big Beautiful Book of Bass signing event at Bookend Books in New Jersey next month]
[New Geddy Lee interview in latest issue of Classic Rock magazine]