UPDATE - 7/9@9:10AM: The interview is now also uploaded to YouTube (thanks RushFanForever).
----- snip -----
UPDATE - 1/25@11:11AM: Here's some coverage of the day's events from Asif Khan for the Youngstown Vindicator.
UPDATE - 1/23@4:35PM: Sirius XM Volume will air the Rush Fan Day interview tonight at 7PM EST.
UPDATE - 1/23@9:56AM: Cool Cleveland posted this short video interview with Geddy from Rush Fan Day (thanks Will C):
----- snip -----
UPDATE - 1/21@12:28PM: UCR got a chance to sit down with Geddy for a few minutes before Saturday's event for an interview which is available online here. Here's what he had to say when asked about his future plans:
I don't know what's next for me, and I'm enjoying that. My life has been scheduled for the last 42 or so years, and I think I owe it to my family-and I owe it to myself-just to be a human being and allow things to happen, rather than to be so strategic in planning out my moves, if you know what I mean. I did that for so many years that I'm enjoying being bored occasionally. And out of boredom comes productivity, I believe. This book was a massive undertaking for me. I have another couple of projects that are different from music projects that I'm working on, but I hope to get back into my home studio and see if I have something to say again. ... I don't have a timeframe. ... It was hard to adjust to not having my band to rely on, you know, because the band was the epicenter of my life for over 42 years. That's a big adjustment, because everything you do is in context of when you go back to work, right? So your playtime is really playtime, because you know you're going back to work because you do have a job. But when you don't have a schedule to adhere to, it sometimes invokes a bit of panic. You know, where you're going, "Holy shit, what am I going to do now?" But I have faith in my interests, and I have faith in my ideas, and I know that sooner or later I'll find myself doing something that intrigues me. But I won't do music just for the sake of doing music. I have to feel that I have something to say. And that's really important to me. I don't want to just repeat and live off the fumes of my past.
----- snip -----
UPDATE - 1/21@9:33AM: Here's a small gallery of photos from the Cleveland Plain Dealer.
UPDATE - 1/20@10:34PM: Here's a gallery of photos from Cleveland Scene Magazine.
UPDATE - 1/20@6:34PM: Some more coverage from UCR.
UPDATE - 1/20@10:03AM: Here's some coverage of the event from Ultimate Classic Rock, focusing on Alex Lifeson's comments on up-and-coming rockers Greta Van Fleet:
... "At first, I thought-obviously, the influence of Led Zeppelin," he said. "But it's a new time for them, so many decades later, so they're developing their own audience." In fact, Lifeson drew on his own experiences with Rush to explain what he sees in the surging young band. "What really struck me about [Greta Van Fleet] is their musicianship, their desire to become better players, their arrangements," he said. "All of those things. As young players - I think they're all in their early 20s-there's a real great future for them as they develop their own style. "Much like we did," Lifeson continued. "We were a bar band, really. We had our influences. Certainly Zeppelin was a big influence for us. But once we got out and we got a chance to play and develop our own stuff and start writing our own material...well, you know, that's history. And I see that with them too. They're young enough that they can carry that banner for a rock band into the future." ...
----- snip -----
UPDATE - 1/19@7:41PM: Photo of the day award goes too ...
This way to @rockhall #rushfanday #BBBoB pic.twitter.com/1hPJKP5uKF

- Rush (@rushtheband) January 19, 2019
----- snip -----
UPDATE - 1/19@5:37PM: The entire interview and Q&A is available on the Rock Hall Facebook page - it kicks in around the 16-minute mark (thanks Will C):
----- snip -----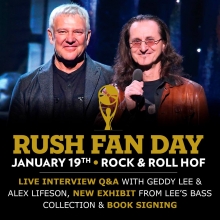 It's Rush Fan Day at the Rock and Roll Hall of Fame in Cleveland! Today's festivities will include a new exhibit of Geddy Lee's basses, a Hall of Fame Series interview with Lee hosted by bandmate Alex Lifeson, a book signing with Lee where he'll sign copies of his Big Beautiful Book of Bass, and a rebroadcast of Rush's 2013 Hall of Fame Induction. For those who weren't able to get a ticket, the Rock Hall will be live-streaming the event via their Facebook page. The event will kick off at 12PM with an interview of Geddy hosted by bandmate Alex Lifeson on the Klipsch Audio main stage, followed by a Q&A session (fans not in attendance can submit questions directly during the Q&A via the Facebook live-stream). After the interview, ticket holders will have the opportunity to get their book (included with ticket price) signed by Geddy Lee himself. Part of Geddy's bass collection will also be on display in the Rock Hall's Shine a Light exhibit, and footage from Rush's 2013 induction will be shown throughout the day in the Museum's Forest City Theater. I'll be on hand with live updates throughout the day via Twitter, so tune in to this post or follow @rushisaband on Twitter.