UPDATE - 11/21@9:32AM: Note: the event is now SOLD OUT.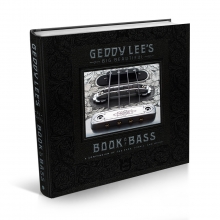 Geddy Lee will kick off the December 18th release of his Big Beautiful Book of Bass next month with a book signing event at Bookend Books in Ridgewood, New Jersey where Geddy will sign copies of the book for fans (thanks John at Cygnus-X1.net). According to Bookend Books, fans who wish to attend must pre-order the book online from the store, which also gives them one ticket for entry. The event will take place at Bookend Books on December 18th at 5PM EST, and you can purchase your book/ticket at this location for $79.99 (the event is SOLD OUT). Here are the detailed rules via the publisher:
* Book Signing Only for People Attending the Event In Person.
* No Books Will be Shipped
* Maximum of 5 books per person
* Every Customer must buy at least one Book for Entry
* Only Books bought from Bookends allowed into the store
* Personalizations, dedications, the signing of memorabilia and posed photography at the table are prohibited.
* Candid photographs are allowed from the line.
* Books must be purchased online ONLY
* No Phone Orders. No Refunds for customers who chose to not attend the event.
* No Backpacks
It's likely that Geddy will be scheduling more signing events, but no details regarding any such signings are yet available. Geddy has been posting several excerpts from the book to his official Instagram page over the past couple of weeks. There's an excerpt from an interview with John Paul Jones from the book here, an excerpt from chapter one on the Fender bass here, and - most recently - this snippet from the Höfner chapter. Geddy spoke at length about the book and his writing process in this recent Classic Rock magazine interview. Geddy Lee's Big Beautiful Book of Bass is slated for release on December 18th and you can pre-order it at this location.
Related Posts:
[New Geddy Lee interview in latest issue of Classic Rock magazine]
[Geddy Lee's Big Beautiful Book of Bass Ultra and Luxe Limited Editions now available for pre-order]
[Geddy Lee's Big Beautiful Book of Bass to release December 4th, more details revealed]
[APRIL FOOLS!! Geddy Lee's Big Beautiful Bass of Book, playable bass guitar special edition]
[Geddy Lee's Big Beautiful Book of Bass coming in November, now available for pre-order]
[Geddy Lee's Big Beautiful Book of Bass coming Fall 2018]