UPDATE - 11/30@12:41PM: John at Cygnus-X1.net has transcribed the entire cover feature and made it available online at this location.
UPDATE - 11/30@9:50AM: The issue hit newsstands today and it includes an extensive 8-page interview with Geddy where he dishes on the making of Hemispheres, along with a bonus 4-page interview where Ged talks about his upcoming Big Beautiful Book of Bass. That second interview concludes with a question about Geddy's musical future:
... Now that he has completed his paean to the bass, Lee is bracing himself for the onslaught of questions about his future musical plans. Nearly a year has passed since Rush announced their retirement, and little has been heard from any of the band. Lee is perhaps the Rush member most expected to re-enter the fray, so Prog asks if there is any prospect of new music on the horizon. "The honest answer is no. Not really," Lee chuckles. "I go down to my studio, which I do, and I play these bass guitars because I have quite a few of them and they're fun to play. I like to keep my fingers in shape. When I play, ideas come out, so I record them and then I forget about them. When I go back to them, I'm sure half of them will be shit and I'll erase them. But I fully intend to go down one day and see what I've gathered down there. Once I've finished promoting this book, I do hope to become a musician again! But I have no idea what form that will take. I have no plans and I don't know where I'm headed." Whatever he does end up doing, it's a safe bet that Geddy Lee will be armed with more bass guitars than he actually needs. And he'll be loving every single nerdy second of it. "I took about 27 various guitars out on the last Rush tour and it was super fun," he concludes. "People expect me to be playing my [Fender] Jazz and I remember the looks on people's faces when I first went onstage with a Gibson Thunderbird... it was like, 'What the hell is he doing with that? Why would he do that?' It was funny. And if I'm honest, I can't imagine ever doing a tour again without taking a bunch of basses with me."
Prog is also running a contest where you can win a SIGNED copy of the book. For all the details and to enter the contest go here.
----- snip -----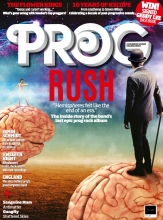 The upcoming issue of Prog magazine (Prog #93) has a Hemispheres cover feature including an interview with Geddy Lee as seen in this 12-page sampler (thanks RushFanForever). The cover depicts a facsimile of the album cover with a tagline that reads, RUSH: "Hemispheres felt like the end of an era." The inside story of the band's last epic prog rock album as seen in this scan. The contents page shows a Hemispheres-era photo of Geddy Lee and describes the article on page 34 as follows: The story behind Hemispheres, and Geddy Lee schools us on bass guitars... as seen here. There's also the following quote from Geddy Lee: "There's something truly prog about that record, and I think that fans of the genre really appreciate that." You can check out the sampler online at this location and learn more about Prog magazine at loudersound.com/prog. Prog #93 is due to hit newsstands on November 30th.