UPDATE - 12/7@2:08PM: The event is SOLD OUT.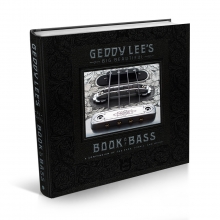 Due to popular demand, Geddy Lee has managed to squeeze in one more book signing event before the Holidays, and will be signing copies of his upcoming Big Beautiful Book of Bass at IndigoSpirit at First Canadian Place in Toronto on Monday, December 17th. A few weeks ago Geddy announced a signing event on December 18th at Bookend Books in New Jersey which quickly sold out. Tickets for the IndigoSpirit signing will be made available TOMORROW - Thursday December 6th at 10AM EST at indigo.ca/events. Here are the details:
* A limited number of tickets are available for purchase through Ticketscene
* Limit of 2 tickets per person
* Each Ticket price includes one (1) signed copy of Geddy Lee's Big Beautiful Book of Bass. The book will be provided at the event.
* Tickets are not available for purchase in-store
* Guests will exchange their Ticketscene ticket for a numbered wristband upon arrival at the store on the day of the event
* Individuals must have a wristband to join the signing lineup
* Candid photos from the line are allowed; no posed photography
* Memorabilia is not permitted at this event and will not be signed
The announcement also promises more signing events will be coming in the New Year. Geddy Lee's Big Beautiful Book of Bass is slated for release on December 18th and you can pre-order it at this location.
Related Posts:
[Hemispheres cover feature including an interview with Geddy Lee in latest issue of Prog magazine]
[Geddy Lee's Big Beautiful Book of Bass signing event at Bookend Books in New Jersey next month]
[New Geddy Lee interview in latest issue of Classic Rock magazine]
[Geddy Lee's Big Beautiful Book of Bass Ultra and Luxe Limited Editions now available for pre-order]
[Geddy Lee's Big Beautiful Book of Bass to release December 4th, more details revealed]
[APRIL FOOLS!! Geddy Lee's Big Beautiful Bass of Book, playable bass guitar special edition]
[Geddy Lee's Big Beautiful Book of Bass coming in November, now available for pre-order]
[Geddy Lee's Big Beautiful Book of Bass coming Fall 2018]