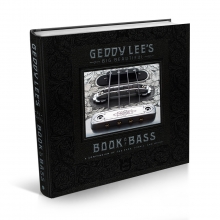 Rolling Stone's Ryan Reed recently sat down with Geddy Lee for a new interview to discuss his upcoming Big Beautiful Book of Bass, which releases this coming Tuesday, December 18th. Geddy talks extensively about how the book came about, the many legendary bass players he interviewed, and his writing process. From the article:
... While Lee is thrilled to gush about this "labor of love," he's also itching to get back in his studio and make music. "This book took me so much time, and now I'm feeling really guilty that I've been away from playing - actual playing - as opposed to playing [basses] for the purpose of describing them in my book," he says. He's unsure what form that next creative step will take. As he told Rolling Stone in a previous interview, he's still open to the idea of recording a follow-up to his lone solo LP, 2000's My Favourite Headache. But when he finally does dive back into music-making, it's safe to say he'll have some new sounds to experiment with. "The basses are in storage somewhere in a high-security vault surrounded by a moat surrounded by alligators surrounded by dogs," he jokes. "I keep some in the studio so I have some around to play, and I try to move them in and out and enjoy them as much as I can." ...
You can read the entire article/interview at this location. Geddy will be conducting a couple of book signing events next week, one at IndigoSpirit in Toronto on December 17, and another at Bookend Books in New Jersey on December 18. Unfortunately both events are SOLD OUT although you can sign up to be put on a waiting list for the Toronto signing here. Geddy has promised that more signing events will be coming in the New Year. Geddy Lee's Big Beautiful Book of Bass is slated for release on December 18th and you can pre-order it at this location.
Related Posts:
[Geddy Lee on his upcoming book and the 10 bassists who blew his mind in new Music Radar interview]
[Geddy Lee book signing at IndigoSpirit in Toronto December 17th, tickets on sale TOMORROW morning at 10AM]
[Hemispheres cover feature including an interview with Geddy Lee in latest issue of Prog magazine]
[Geddy Lee's Big Beautiful Book of Bass signing event at Bookend Books in New Jersey next month]
[New Geddy Lee interview in latest issue of Classic Rock magazine]
[Geddy Lee's Big Beautiful Book of Bass Ultra and Luxe Limited Editions now available for pre-order]
[Geddy Lee's Big Beautiful Book of Bass to release December 4th, more details revealed]
[APRIL FOOLS!! Geddy Lee's Big Beautiful Bass of Book, playable bass guitar special edition]
[Geddy Lee's Big Beautiful Book of Bass coming in November, now available for pre-order]
[Geddy Lee's Big Beautiful Book of Bass coming Fall 2018]