UPDATE - 1/9@10:59AM: John at Cygnus-X1.net has posted a CORRECTION regarding Geddy's Sirius XM guest DJ appearance; apparently Geddy will be the guest DJ on Sirius XM's 80s on 8 station rather than Classic Rewind as originally reported.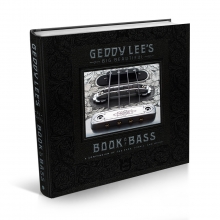 Geddy Lee was a guest on Q104.3's Out of the Box with Jonathan Clarke this past Sunday night and the entire 20-minute interview has been made available online at this location. Geddy spends nearly the entire time talking about his Big Beautiful Book of Bass, which released last month. From the interview:
... "I felt also that there's a lot books out there about guitars and vintage guitars and collecting guitars, but I felt like the books on bass were a bit meager and didn't really show the love that I felt the bass deserved. So I wanted to make a beautiful book - that's why that title is what it is. I didn't want it to be that big, but I got carried away." ...
This was Geddy's first interview since his media blitz surrounding the book's release last month and leading up to Christmas. You can get a complete rundown of all of Geddy's many interviews from last month in this post. Geddy will be making an appearance as a guest DJ on Sirius XM's Classic Rewind this coming Thursday, January 10th at 3PM EST. Geddy's Big Beautiful Book of Bass is currently available in bookstores and at Amazon.com.