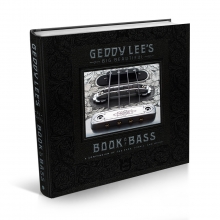 Amit Sharma recently chatted with Geddy Lee for an interview at MusicRadar.com to discuss his upcoming Big Beautiful Book of Bass, which releases on December 18th. Geddy talks about how the book has been a labor of love for him, and has occupied most of his time since Rush last toured 3 years ago:
... I haven't done anything musical that I would care to share yet because I've mainly been focusing on this - which was and is a labour of love for me. To be honest, right now I have no plans to do anything, but I probably will do something eventually. I have no idea what it will be, now that the book is done, I need some time to get to know myself again as a player and see what I feel like creating. ...
Geddy then goes on to list off the 10 bassists that have blown his mind over the years, and talk a bit about each one. Here's what he had to say about legendary YES bassist Chris Squire:
"The first time I heard Yes was in my buddy's house - we would skip school and hang out when no one was home, smoking joints and listening to music. "One time he put a song on and asked me to close my eyes. That song was No Opportunity Necessary [No Experience Needed] from Time And A Word. The bass came blistering out of the speakers and I was wondering, 'Who is this?!' He sounded adventurous and rhythmic. He played with a pick, but I don't hold that against him, haha! "Chris was so orchestral, creative and complex, his parts are classically structured in that they're inventive and all over the place. Chris is the reason I wanted a Rickenbacker 4001. He's what took me from John Entwistle to my next step in twangy tone!"
You can read the entire article/interview at this location. Geddy will be conducting a couple of book signing events next week, one at IndigoSpirit in Toronto on December 17, and another at Bookend Books in New Jersey on December 18. Unfortunately both events are SOLD OUT although you can sign up to be put on a waiting list for the Toronto signing here. Geddy has promised that more signing events will be coming in the New Year. Geddy Lee's Big Beautiful Book of Bass is slated for release on December 18th and you can pre-order it at this location.
Related Posts:
[Geddy Lee book signing at IndigoSpirit in Toronto December 17th, tickets on sale TOMORROW morning at 10AM]
[Hemispheres cover feature including an interview with Geddy Lee in latest issue of Prog magazine]
[Geddy Lee's Big Beautiful Book of Bass signing event at Bookend Books in New Jersey next month]
[New Geddy Lee interview in latest issue of Classic Rock magazine]
[Geddy Lee's Big Beautiful Book of Bass Ultra and Luxe Limited Editions now available for pre-order]
[Geddy Lee's Big Beautiful Book of Bass to release December 4th, more details revealed]
[APRIL FOOLS!! Geddy Lee's Big Beautiful Bass of Book, playable bass guitar special edition]
[Geddy Lee's Big Beautiful Book of Bass coming in November, now available for pre-order]
[Geddy Lee's Big Beautiful Book of Bass coming Fall 2018]