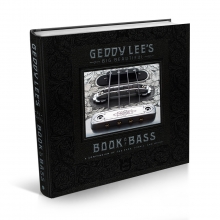 Billboard is the latest to speak with Geddy Lee about his upcoming Big Beautiful Book of Bass, which releases this coming Tuesday, December 18th; MusicRadar.com and Rolling Stone also posted interviews with Geddy over the past few days. The Billboard interview isn't quite as extensive as the others, but Geddy does have a good bit to say about his musical future:
... Lee acknowledges that he put his own music-making aside to dive into the book, but with its publication at hand he's now ready to strap his bass back on for creative purposes. "I haven't really had brain space to look at doing any music," Lee notes. "I was playing (the basses) all the time and trying to keep my fingers sharp, and every once in awhile I would throw some riffs down on tape and walk away from it. So after I finish the promotion of this book I will figure out what my next step is going to be. I do miss playing, and I miss playing with my bandmates." But other than checking off on archival projects, don't expect Lee to wind up doing anything musical with Rush mates Alex Lifeson and Neil Peart. "I would say it's highly unlikely," he notes. "Neil has retired and has no interest to play anymore. Alex and I...it's possible. We'll see. I'm sure something else will come along for me to do."
You can read the entire article/interview at this location. Geddy will be conducting a couple of book signing events next week, one at IndigoSpirit in Toronto on December 17, and another at Bookend Books in New Jersey on December 18. Unfortunately both events are SOLD OUT although you can sign up to be put on a waiting list for the Toronto signing here. Geddy has promised that more signing events will be coming in the New Year. Geddy Lee's Big Beautiful Book of Bass is slated for release on December 18th and you can pre-order it at this location.
Related Posts:
[Geddy Lee on his upcoming Big Beautiful Book of Bass in new Rolling Stone interview]
[Geddy Lee on his upcoming book and the 10 bassists who blew his mind in new Music Radar interview]
[Geddy Lee book signing at IndigoSpirit in Toronto December 17th, tickets on sale TOMORROW morning at 10AM]
[Hemispheres cover feature including an interview with Geddy Lee in latest issue of Prog magazine]
[Geddy Lee's Big Beautiful Book of Bass signing event at Bookend Books in New Jersey next month]
[New Geddy Lee interview in latest issue of Classic Rock magazine]
[Geddy Lee's Big Beautiful Book of Bass Ultra and Luxe Limited Editions now available for pre-order]
[Geddy Lee's Big Beautiful Book of Bass to release December 4th, more details revealed]
[APRIL FOOLS!! Geddy Lee's Big Beautiful Bass of Book, playable bass guitar special edition]
[Geddy Lee's Big Beautiful Book of Bass coming in November, now available for pre-order]
[Geddy Lee's Big Beautiful Book of Bass coming Fall 2018]