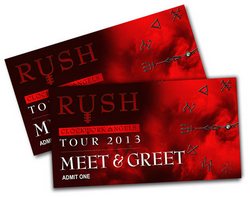 With the 2013 Clockwork Angels tour just one month away, the Rush Backstage Club is bringing back its contest to win a meet & greet with members of Rush! From the website:
The contest you have all been waiting for: Win a Meet and Greet with members of RUSH! We will draw one lucky winner for every city on the upcoming RUSH North American and UK Tour to win a pair of meet and greet passes to meet members of RUSH.

IMPORTANT: You MUST have tickets to the show already in order to be eligible to win the meet and greet passes. Tickets to the concert are not included with the meet and greet passes prize.

NOTE: When filling out the contest form, please fill in the "City" field with the city where you have tickets for a RUSH Clockwork Angels tour concert. Do not enter the city where you are from unless RUSH is playing a concert in that city and you have tickets to that concert. If you are going to see RUSH on this tour in several cities, you may enter ONCE for each show you are attending.

Only one entry PER PERSON PER CONCERT DATE. This contest closes on July 22, 2013. Draws will take place approximately 1-2 weeks prior to show date. If you are selected as a potential winner, you will have 48 hours to respond to our email stating that you are a potential winner for your city. If you do not respond within this window of time, your prize will be forfeited automatically.
For all the details and to enter go here. Rush kicks off the 2013 Clockwork Angels tour one month from tomorrow in Austin, TX.
Related Posts:
[Rush to play the Quebec City Summer Festival on July 10th]
[Rush Clockwork Angels tour: second Halifax show added on July 14th]
[Rush to play the Ottawa Bluesfest on July 8th]
[Rush Clockwork Angels tour concert video to release September 24th]
[Rush Clockwork Angels Summer tour pre-sale update, additional dates rumored]
[Rush Clockwork Angels official Summer tour date announcement]
[Rush Clockwork Angels tour official tour dates; Halifax and Hamilton]
[Rush 2013 Clockwork Angels North American tour rumor update]
[Rush Spring 2013 Clockwork Angels North American tour official tour date and pre-sales announcement]
[Rush Clockwork Angels tour official attendance and sales figures]
[Rush confirm plans for 2013 North American Clockwork Angels tour]
[Robe Lighting website feature on Rush's Clockwork Angels tour; confirms 2013 North American tour?]
[Rush to film Phoenix and Dallas shows for live DVD release]
[Interview with Clockwork Angels String Ensemble violinist and concert master Joel Derouin]
[Getting to know the Clockwork Angels String Ensemble]
[Clockwork Angels tour opening night in Manchester open thread]
[Follow the Clockwork Angels tour on Twitter]
[Official Rush 2012 Clockwork Angels tour announcement and dates!]