UPDATE - 1/25@10:16AM: Live Nation pre-sales are now underway using a password of bazooka or covert. These will run through 5PM this afternoon.
UPDATE - 1/23@3:15PM: VIP packages for all 9 shows are now available to the general public - a password is no longer required. The sell-outs mentioned below just referred to the fan, password-protected VIP pre-sales that ended at Noon today.
UPDATE - 1/23@10:57AM: CITI card pre-sales for Austin and Nashville begin in just a few minutes!
UPDATE - 1/23@10:32AM: VIP pre-sales for the Mohegan Sun show along with Austin, Orlando and Atlantic City are now sold out.
UPDATE - 1/23@9:55AM: CITI pre-sales for 7 of the 9 shows begin in just a few minutes at 10AM!
UPDATE - 1/23@6:57AM: Mohegan Sun VIP pre-sale is now sold out. CITI card pre-sales begin today at 10AM local venue time.
UPDATE - 1/22@6:36PM: Austin and Atlantic City VIP pre-sales are now sold out.
UPDATE - 1/22@2:04PM: Ticketmaster is now listing the 9 new shows with a general on-sale date of this coming Monday, January 28th at 10AM. There will also be CITI and Live Nation pre-sales for most of the dates. The CITI pre-sales will begin tomorrow at 10AM and the Live Nation pre-sales will occur on Friday from 10AM until 5PM. For all the details check out the tour section.
UPDATE - 1/22@1:34PM: Rush has posted an official commercial for the 2013 tour to their YouTube channel.
UPDATE - 1/22@12:56PM: Fan pre-sales and VIP pre-sales for Austin and Nashville go on sale in just a few minutes! You will need to use the password angelfan to access VIP ticket packages for the first 24 hours.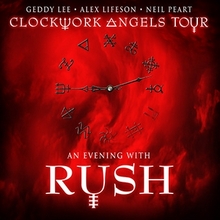 UPDATE - 1/22@11:51AM: Fan pre-sales and VIP pre-sales for Ft. Lauderdale, Orlando, Raleigh, Virginia Beach, Baltimore, Uncasville, and Atlantic City (all the Eastern time zone dates) go on sale in just a few minutes! Austin and Nashville will go on sale at 12PM CST. You will need to use the password angelfan to access VIP ticket packages for the first 24 hours.
UPDATE - 1/22@8:07AM: I've loaded all the dates into the tour section. The VIP Nation Rush pre-sale site is now up and running with all the dates loaded in. The Rush Music Today site doesn't have any dates loaded in as of yet however. Pre-sales will begin at Noon local time, so be ready if you plan to purchase tickets. For information on how all the various pre-sales work check out my ticket sale and pre-sale guide. Here's the official Live Nation press release announcing the tour.
Just as we had anticipated, early this morning Rush announced official dates for the 2013 North American leg of the Clockwork Angels tour via the Rush.com newsletter. Dates were given for only the Spring leg, which will consist of 9 dates, kicking off in Austin, TX on April 23 and running through May 11th in Atlantic City. Pre-sales begin TODAY at Noon, with VIP pre-sales and fan pre-sales through VIP Nation and Music Today respectively. They also list some of the cities that will be included in the Summer leg, including Rush's long overdue return to Halifax! I'll be updating the tour section this morning with all the details. Here's the announcement from the Rush.com newsletter:
CLOCKWORK ANGELS TOUR ANNOUNCEMENT

As previously alluded to, and due to overwhelming demand, the Clockwork Angels Tour will continue in 2013 to over 20+ cities in North America this year. Beginning in April, fans will be able to catch RUSH live in a number of new markets not visited on last year's tour.

Today we have announced details for the spring leg of the tour which include

April 23: Austin, TX @ Frank Erwin Center
April 26: Ft. Lauderdale, FL @ BB&T Center
April 28: Orlando, FL @ Amway Center
May 1: Nashville, TN @ Bridgestone Arena
May 3: Raleigh, NC @ PNC Arena
May 5: Virginia Beach, VA @ Farm Bureau Live At Virginia Beach
May 7: Baltimore, MD @ 1st Mariner Arena
May 9: Uncasville, CT @ Mohegan Sun
May 11: Atlantic City @ Etess Arena

Pre-sale for RUSH fans for the spring tour dates begin today, Tuesday January 22nd at NOON LOCAL TIME!

CLOCKWORK ANGEL TOUR PACKAGE

Tour Packages will be exclusive to RUSH fan members for the first 24 hours.

Passcode: angelfan (lower case, case sensitive)

Rush Clockwork Angels Tour Package consists of:
* One reserved ticket located within the first 15 rows of the stage
* New and exclusive Rush 2013 Tour t-shirt
* Collectible Tour Poster (numbered, limited)
* Official Tour Program
* Exclusive surprise Rush gift item
* Commemorative Concert Ticket
* Commemorative Tour Laminate

To purchase your RUSH Tour package, please visit http://www.vipnation.com/programs/rush---clockwork-angels-tour/

RUSH FAN CLUB PRE-SALES

The Fan Club tickets are only available during the PRE-SALE. Reserve the best seats in the house through our special Rush fan pre-sales. These presales only last three days, and only certain cities/dates are currently available with more presales being added later. Check back soon if you don't see your date. At the end of your ticket purchase, you will have the opportunity to pre-order Exclusive RUSH.com Tour Merchandise.

In addition, when you order Fan Club Tickets and the Exclusive Merchandise you will be automatically entered to win a meet and greet with members of the band at your show (one winner plus guest per city).

To purchase Presale Tickets and Presale Merchandise please visit http://rush.musictoday.com

Just a reminder to those fans that are also CITI card members, you will also have access to pre-sale tickets through Citi's Private Pass® Program beginning January 23rd in select markets. For complete presale details visit http://www.citiprivatepass.com

Stay tuned for additional tour announcements for the summer dates that will resume when the band returns from their European leg in June. These will include but not be limited to Hershey, Wantagh, Saratoga, Chicago, Cincinnati, Milwaukee, Boston, Calgary, Vancouver, Portland, Salt Lake City, Denver, Kansas City, and will finally see RUSH return to Grand Rapids and Halifax for the first time in decades!

We look forward to seeing you on the road!
Related Posts:
[Rush Clockwork Angels Live tour DVD will NOT release in May]
[Rush Clockwork Angels Live tour DVD to release in May]
[Rush 2013 Clockwork Angels tour rumor update]
[Rush 2013 Clockwork Angels tour announcement coming soon?]
[Rush Clockwork Angels tour official attendance and sales figures]
[Rush confirm plans for 2013 North American Clockwork Angels tour]
[Robe Lighting website feature on Rush's Clockwork Angels tour; confirms 2013 North American tour?]
[Rush to film Phoenix and Dallas shows for live DVD release]
[Interview with Clockwork Angels String Ensemble violinist and concert master Joel Derouin]
[Getting to know the Clockwork Angels String Ensemble]
[Rush Clockwork Angels tour setlist update]
[Clockwork Angels tour opening night in Manchester open thread]
[Follow the Clockwork Angels tour on Twitter]
[Rush's Clockwork Angels tour to include a string section]
[Official Rush 2012 Clockwork Angels tour announcement and dates!]