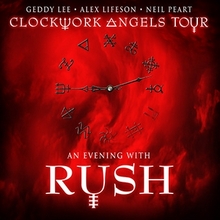 Just as we had been anticipating for a few weeks now, Rush has filled their July 10th date on the 2013 leg of the Clockwork Angels tour with a planned appearance at the Festival d'été de Québec (Quebec City Summer Festival). The band also played this same Festival back in the Summer of 2010. Tickets for the festival go on sale tomorrow, March 16 via infofestival.com. From the Rush.com announcement:
... Rush is bringing their epic Clockwork Angels Tour to the Festival d'été de Québec on July 10. They'll be playing the Bell Stage on the Plains of Abraham in what will be their only show in Québec. And what a show ─ this will be a huge production with projections, special effects and even the Clockwork Angels String Ensemble to add a complex layer of sound to both their new work and their rich repertoire.

Remembering the enthusiastic Festival crowds in 2010, Geddy Lee, Neil Peart and Alex Lifeson are excited to be back.

"We know that Rush will blow our many rock fans away. And because this is their only stop in the province, we expect people to be coming in from all over to see these three world-famous rock stars who are still going strong after almost 40 years", program director Louis Bellavance was proud to say. ...
This likely will be the last date added to the tour itinerary for 2013.
Related Posts:
[Rush Clockwork Angels tour: second Halifax show added on July 14th]
[Rush to play the Ottawa Bluesfest on July 8th]
[Rush Clockwork Angels tour concert video to release September 24th]
[Rush Clockwork Angels Summer tour pre-sale update, additional dates rumored]
[Rush Clockwork Angels official Summer tour date announcement]
[Rush Clockwork Angels tour official tour dates; Halifax and Hamilton]
[Rush 2013 Clockwork Angels North American tour rumor update]
[Rush Spring 2013 Clockwork Angels North American tour official tour date and pre-sales announcement]
[Rush Clockwork Angels tour official attendance and sales figures]
[Rush confirm plans for 2013 North American Clockwork Angels tour]
[Robe Lighting website feature on Rush's Clockwork Angels tour; confirms 2013 North American tour?]
[Rush to film Phoenix and Dallas shows for live DVD release]
[Interview with Clockwork Angels String Ensemble violinist and concert master Joel Derouin]
[Getting to know the Clockwork Angels String Ensemble]
[Rush Clockwork Angels tour setlist update]
[Clockwork Angels tour opening night in Manchester open thread]
[Follow the Clockwork Angels tour on Twitter]
[Official Rush 2012 Clockwork Angels tour announcement and dates!]