UPDATE - 2/15@11:11AM: The Hamilton show is now listed at Ticket Master Canada, and the Halifax show listing is now posted at Evenko (Ticket Atlantic partner).
UPDATE - 2/15@10:37AM: The VIP Nation site is now correctly listing the Halifax date as July 12th.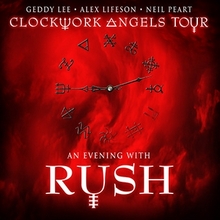 UPDATE - 2/15@9:59AM: I've added both dates into the tour section. Both are listed at the VIP Nation website but they have the date for Halifax incorrectly listed as July 11th. The VIP Ticket package pre-sales and Music Today fan pre-sales will go on sale for both shows this coming Tuesday, February 19th at 12PM local time (note that Halifax is 1 hour ahead of EST, so that's 11AM EST). The VIP pre-sale will use a password of 2013Rush for the first 24 hours. The Music Today site does not yet have the dates listed. General ticket sales for the Hamilton show will begin next Friday, February 22nd at 10AM through Ticket Master Canada although they don't have the date listed yet. General ticket sales for the Halifax show will be handled by Ticket Atlantic and begin next Saturday, February 23rd at 10AM (9AM EST). For all the details on the 2013 tour be sure to check out the tour section, and for questions regarding all the various pre-sales be sure to read my guide to ticket sales and pre-sales.
Shortly after midnight Rush.com announced details regarding 2 of the Canadian dates to be included in the Summer leg of the 2013 North American Clockwork Angels tour; a show at the Copps Coliseum in Hamilton, ON and their long-awaited return to Halifax. From Rush.com:
RUSH returns to Halifax and Hamilton

RUSH is excited to announce that after 26 years, they are returning to Halifax, Nova Scotia to perform as part of their Clockwork Angels Tour, on FRIDAY JULY 12 at the Halifax Metro Centre.

They are also pleased to announce a return to Hamilton, Ontario on SATURDAY, JULY 6 at Copps Coliseum.

Both shows will have a pre-sale begin Tuesday, February 19 at noon local time with tour packages password protected for you for the first 24 hours.

Visit http://bit.ly/Rush2013Packages
Password will be 2013Rush

You can also visit rush.musictoday.com/Rush/calendar.aspx for the Fan Club pre-sale that begins Tuesday, February 19 at noon local time and ends Thursday, Feb 21 at 5pm local time.

For those that are American Express card users, there will also be a Front of the Line pre-sale available for the Hamilton show. Please visit www.americanexpress.ca/fronoftheline for more details.
Hopefully the rest of the Summer dates will be coming soon. I'll be updating the tour section this morning with all the details.
Related Posts:
[Rush 2013 Clockwork Angels North American tour rumor update]
[Rush Spring 2013 Clockwork Angels North American tour official tour date and pre-sales announcement]
[Rush Clockwork Angels Live tour DVD will NOT release in May]
[Rush Clockwork Angels Live tour DVD to release in May]
[Rush 2013 Clockwork Angels tour rumor update]
[Rush 2013 Clockwork Angels tour announcement coming soon?]
[Rush Clockwork Angels tour official attendance and sales figures]
[Rush confirm plans for 2013 North American Clockwork Angels tour]
[Robe Lighting website feature on Rush's Clockwork Angels tour; confirms 2013 North American tour?]
[Rush to film Phoenix and Dallas shows for live DVD release]
[Interview with Clockwork Angels String Ensemble violinist and concert master Joel Derouin]
[Getting to know the Clockwork Angels String Ensemble]
[Rush Clockwork Angels tour setlist update]
[Clockwork Angels tour opening night in Manchester open thread]
[Follow the Clockwork Angels tour on Twitter]
[Official Rush 2012 Clockwork Angels tour announcement and dates!]